PAN Avalon - UK - Planetary Moon Report
MYSTERY OF THE STONE WORKSHOP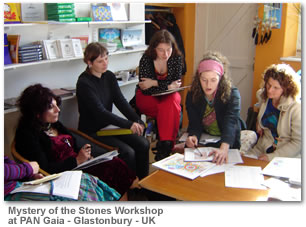 This Moon saw that activation of the Pangaia space in Glastonbury as a workshop venue with a two day workshop event on the Mystery Of The Stone which was facilitated by Mark, White Galactic Wind. Kin came from London as well as locally and we had a strong circle of 13 people for the event. The co-exploration of this potent imaginal map was a collectively enlightening experience. The Mystery Of The Stone really seems to demand a beginners' mind to engage with its interesting combination of child like simplicity and galactic lore.  The Pangaia space is now fully operational as a workshop space/ distribution centre/ event production office with a fast wireless broadband network so we can help Frank, Blue Crystal Eagle with his considerable workload with www.wavespell.net  and www.planetartnetwork.info .
PREPARATIONS FOR RED MAGNETIC MOON
We are currently working on next years' calendars which will include a large visionary art calendar in the style of the previous 'Universal Calendar' which returns due to popular demand and the continued enthusiastic support of the artists. We will print the new pocket calendars and possibly one or more synchronometers. A diary project is under consideration too.
Planet Art Press will also be publishing a book later this year on the Druid Tree Calendar. "Merlin's Tree Oracle" is being written by local druid Merlin, longtime student of natural time and is currently in production. It will contain a lot of information complimentary to the 13 Moon Calendar and will allow those using the 13 Moons an extra insight into the wisdom of the trees.

SUMMER EVENTS
A full schedule of events for the summer is currently being compiled. Check the front page of www.wavespell.net for the most up to date details. If you are interested in helping with or co-facilitating the PAN space at some of this year festivals- please get in touch.
CRYSTAL DAYS RETURN TO THE WHITE SPRING
The Avalon Round Table returned to the White Spring for the first time in more than 2 years this Wavespell. The White Spring was PAN Avalons' home for more than 50 Crystal Days over many galactic spins since PAN was first established here in 1999. The building is actually a Victorian Reservoir that nestles against the side of Glastonbury Tor. It was converted in to a Café, but then flooded and has stood empty since then. Fortunately it has now been revived as a sacred space and goddess temple. Thanks to the new custodians for granting us permission. It feels great to be back in this most magical space where the waters from the Tor literally flow through the middle of the building! How synchronic to return on Red Crystal Moon too!