BAY AREA PAN Report
The BAY AREA PAN in California has been holding crystal meetings since Resonant 27, 2/5/06.  We are still in the initial stages of organizing, so this is our first report. 
Our first gathering was at Jonathan Resonant Sun's house in Oakland on Resonant 27.  It was a great turn-out of about 20 people at our initial gathering.  We initially did some instructional lessons on the Dreamspell and the various tools.  After introductions, we ended with some rituals and a group circle where together we raised the energy in the room to a very high spiritual level.  It was truly a time of gathering great power and love coming together.
Our second meeting was not a formal gathering, but several of the initial group went to support Akasa Tseng's Dream Anew sound healing event on Galactic 12, 2/18/06, - http://www.dreaminganew.net/events_detail.php?day=saturday&code=7 .  It was a very beautiful gathering of healing sound and ceremonial medicine woman blessings. 
The third BAY AREA PAN gathering on Galactic 25, 3/3/06, was held at Valera Electric Eagle's residence.  It was a small group of only 5 people, but Valera, who is a Mayan Calendar teacher, has so much wisdom to share that we were able to go in depth with the wisdom that he holds about the glyphs and tones for each individual.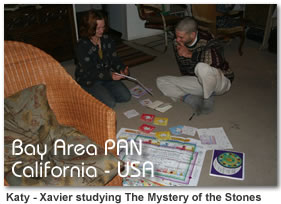 The fourth BAY AREA PAN gathering on Solar 10, 3/17/06, was held at Katy Planetary Serpent's house in the hills of Oakland.  It was a small gathering of 4 kin, but again, was a beautiful gathering where we learned more about the calendar tools and created close kinships.  We began the meeting with a meditation where we all felt a strong connection with all other groups around the planet even with the time being later than the designated time for our area (4 a.m. is our synchronic time to connect, so we do that on an individual basis and then do a group meditation in the evening on our crystal gatherings).  Katy shared the exciting news that five kin from Japan were coming to the Bay Area and wanted to meet with us.  So, we began working on a gathering to be held on the fourth day of the White Mirror Wavespell on Planetary 26, 4/29/06.  We will be posting the time and San Francisco location at the following website:  http://tribes.tribes.net/sfpan .  All kin are welcome to come and connect.

The fifth BAY AREA PAN gathering was once again at Katy Planetary Serpent's house.  We began with our meditation outside in nature and felt a strong connection with each other and mother earth who lovingly supports us on this earth.  Following that, we started to work with the Seven Years Mystery of the Stone, Resurrection of the Soul in Time tool and will continue with understanding how to use it at future gatherings.  We were an initial gathering of 4 kin again, until later two new kin joined us and brought a great deal of love energy and wisdom that inspired us all.

I am Kate Anderson, Blue Overtone Hand and we are all so grateful to be connected with you all around the world during this exciting time - on the journey to spiritual evolution!  Blessed be.