THE 3RD COSMIC DIARY LECTURER-TRAINING COURSE
(Solar Moon 11 White Cosmic Mirror - 13 Yellow Lunar Sun)
Instructor: Hirohide Yanase
Participator: 7 Kin
Participators are granted certification as lecturers for the official cosmic diary and can hold the cosmic diary seminar officially on their own. This is the important role to navigate people to the new time forward 2012.
Requirement to entry: Those who participated in a 3-days cosmic diary seminar *This seminar offers rather deep meaning of the 13 Moon Calendar and material to teach it steadily, you can communicate important contents to people.
The first official lecturers last year are taking active parts like one appeared in the TV, another has already promoted cosmic diary to several hundred people by pre-seminar around the usage of the diary, and each lecturer has brilliant success beyond expectation in their own way.
An impression of participator:
Condensed lecture, delicious food, wonderful nature in Atami (the place held the seminar) and nice fellows. Those days became a crystal and remain in my heart. I'll create the resonance with using the crystal!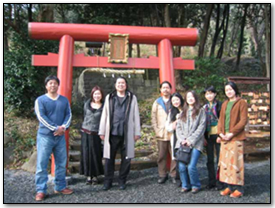 COSMIC-PAN SUGINAMI MEETING WITH CRYSTAL DAY WORLDWIDE SYNCHRONIC MEDITATION


(Planetary Moon 8 Blue Crystal Night)
Hello everyone,
I'm Cosmic-PAN SUGINAMI representative, Miki Sato Kin 169 Red Cosmic Moon.
I held the first meeting on Kin 103 Blue Crystal Night.
I was thankful that many kin got together there. It was active meeting with comings and goings in a small room. In the Worldwide Synchronic Meditation from , I felt the room itself was purified. And then I was conscious of what each person paid attention to and strongly recognized the importance to promote the cosmic diary (13 Moon Calendar) to heal the earth. I'll
decide to realize steadily the activities as Cosmic-PAN SUGINAMI on the way to go.

THE FIRST NATURAL MIND MEDITATION TRAINING


(Planetary Moon 13 Yellow Self-Exiting Star - 14 Red Overtone Moon)
Instructor: Hirohide Yanase
Participator: 7 Kin
This is the important training for the journey to the new time toward 2012. In the relaxed atmosphere to take off to the cosmic consciousness at the bottom of Mt. Fuji, you can receive the message of the cosmic consciousness from the video of Dr. Jose's lecture in the Leadership training at the Mt.Fuji in the Overtone Moon. For 2012 and establishment of the cosmic
civilization after that, this training is a vital item.
It would be good to say, if using 13 Moon Calendar is the first step, as the second step, "Natural mind meditation" let you connect with cosmic consciousness, release ego, conversant in the cosmic order, and bring the cosmic civilization on the planet.
It includes the five video lectures by Dr. Jose and the 4-step meditation practice. Yanase navigate you to get the concept of Natural Mind Meditation correctly and learn perfectly for two days.
In order not to fade away what Dr. Jose taught us, I hope you receive it.
An impression of participator:
'It was precious 2 days to enter the stage "awaking in the noosphere and preparing for the cosmic civilization", and ultrahigh-speed restudy. I'll
return to the nature and simple life style, feel the cosmic order, release the nonessential needs, and live wakefully with practicing Natural Mind Meditation with the recipe Dr. Jose gave. I am the peace itself.'
- KIN 110 White Rhythmic Dog Rituko Kojima
THE 34TH COSMIC DIARY SEMINAR IN SAGA/ FURUNO ONSEN


(Planetary 17 Yellow Galactic Human - 18 Red Solar Skywalker)
Instructor: Hirohide Yanase
Participator: 13 Kin
I'd like to offer the lecture to take off to the new time to people as many as I can. This is 2-days intensive seminar to navigate you through the journey ofthe new time by lecture for usage of my work "cosmic diary".
< Contents >
1 "TIME IS THE ORGANIC ORDER":  Japanese culture and soul,the science of time, Cyclic order, Synchronic order, 28-day cycle, the galactic tone, Wavespell, Solar Seal, the fractal meaning of Tzolkin, Galactic signature
2 "MAYAN PROPHECY": Get back the nature law, Moral and Science, Time and Prophecy, Time and Biosphere, Telektonon, Synchronization with Pacal Votan, The meditation for Rainbow Bridge on the planet.
3 "THE SCIENCE OF TELEPATHY": 20 tablets of the law of time, 7:7::7:7, Toward 2012
An impression of participator:
'I feel I've lived and tried to do my best only in the third dimension."Feel the cosmic, feel the nature", I can look up at the sky with feeling I've never had before. "Now, from here", your words never slip from my mind. Thank you very much.'
- Kin 22 White Solar Wind Rumiko Mastunaga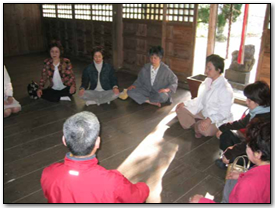 TALK WITH MIKE BOOTH, THE PRESIDENT OF AURA-SOMA


(Planetary Moon 19 White Planetary Wizard)

Many participators in Cosmic Diary Seminar are related to Aura-Soma as teachers or learners. Mike Booth himself is interested in Mayan Calendar, he made No.104 Bottle according to the fact that it is KIN 104 Yellow Cosmic Seed year now. There is a bottle connected with Mayan calendar, called also Time shift (No. 89).
In a friendly talk about when he met the Mayan Calendar, he told he had been interested in Dr. Jose's activities since he read "mandala" by Jose Arguelles in 1972 and could feel deep similarity between the his own spiritual path for activities and Dr. Jose's after that. I suggested how about 13 Moon Calendar for Aura-Soma users and Mike already started to produce the 13 Moon Calendar Aura-Soma version. He will produce it for worldwide and also a desk calendar for Japan.
He invites me to The Mayan calendar seminar at the end of July and I'll join in it.
VISIT TO ASHLAND/ FOUNDATION FOR THE LAW OF TIME BOARD MEETING AND INTERNATIONAL GATHERING

(Planetary Moon 22 Red Cosmic Earth - 28 Blue Rhythmic Night)

This visit to Ashland by 6 Kin was the voyage to focus on the present Earth forward the Earth in 2012, which hold Russia, Switzerland, Venezuela, Italy, San Francisco and Ashland in USA, New Zealand GRI are going to move to, Brazil Planetary Congress of Biospheric rights is going to be held in, and Japan.
22 Red Cosmic Earth
- Informal meeting/ reposts from PAN in each country
13 KIN of several countries got together and shared each activities
Alex Sparky (Russia), Daniel Lipschits (Switzerland), Jacob Wyatt, Ginny Nichols (USA), Kelly Harding (Venezuela), Enrico Zappoli, Camilla Giahoti (Italy), Hirohide Yanase, Akemi Yanese, Kaori Mikoshi, Hirono Tanabe, Kiyotaka Niikura, Naomi Yagisawa (Japan)
23 White Magnetic Mirror
- Board meeting and presentation with Dr. Jose and Stephanie, Daniel Lipschits (Switzerland), Jacob Wyatt, Ginny Nichols, Timothy Tussing (USA), Kelly Harding (Venezuela), Enrico Zappoli, Camilla Giahoti (Italy), Hirohide Yanase, Akemi Yanese, Kaori Mikoshi, Hirono Tanabe, Kiyotaka Niikura, Naomi Yagisawa (Japan)
1. Global Council of the Foundation for the Law of Time - membership, structure and definition of purpose, responsibilities and form of communication. Consideration of role of this Council in aftermath of Biospheric Congress.
2. Restructuring the Foundation for the Law of Time as an international organization: Switzerland-Brazil-Japan. Definition of responsibilities and communication with regard to international scene.
3. Galactic Research Institute(GRI) - structure of communication/facilitation and funding with FLT International; relationship to CREST.
4. Law of Time Press: Production and distribution of Law of Time materials, vehicle for funding GRI.
5. CREST. Discussion of current and future potential projects. Funding and administration.
6. ARTECOOP - as complementary for profit venture.
24 Blue Moon Storm
- Meeting about the Global Council and Biospheric Congress in Brazil
The preparation, funding, issue in question and the strategy to solve
25 Yellow Electric Sun
- Visit the FLT office
- Meeting about the CREST
The candidate site, possibility and funding
26 Red Self-Existing Dragon
- Meeting with PAN people in San Francisco/Sharing each activities --
Katy O'Leary, Kate Anderson, Mark Comings, Jesse Anderson, Annalisa Alberto, Michael O'Rourke, Akasa Tseny, Hirohide Yanase, Akemi Yanese, Kaori Mikoshi, Hirono Tanabe, Kiyotaka Niikura
A MEETING FOR CREATING 13 MOON CALENDAR BLOG

(Spectral Moon 10 Red Electric Skywalker)

Its the final meeting to realize the blog as Cosmic Diary Internet version, I've dreamed which for long time. We discuss the world's first? creation with many ideas and an investment of $30,000.
Translation by Naomi Yagisawa