Year of the Red Magnetic Moon
3rd Year of the Mystery of The Stone. Gamma Pacifies Mystery of the Stone
Planetary Dog Moon of Manifestation. Limi 13, Cube 7 Hand Accomplishment
Kin 249, Red Lunar Moon
PCU: White Cosmic Worldbridger
Report filed by Kin 240, Kelly Rhythmic Sun
Galactic Call Answering Adventure Report
As soon as I got the call from the Foundation for the Law of Time through Jacob Rhythmic Dragon to be of service with graphic design I didn't hesitate on answering the call and getting ready for a great adventure!
After going through a weird paranoid experience with the department of homeland security in the Miami International Airport, where they even suspected my teddy bear was filled with some kind of dangerous filling substance, I arrived in Ashland on Galactic Kali 25, Yellow Crystal Seed of the Cosmic Seed year, with a heart full of joy and love for the work I was going to be doing and for the amazing adventures I was going to participate in.
Jacob and Ginny Overtone Dragon picked me up at the airport. After getting settled in my temporary home, a rented room in the house of an artist called Charu Colorado White Crystal Dog, I was excited to begin the amazing galactic design projects together with my rhythmic brother Jacob Rhythmic Dragon. When I saw Votan and Red Queen for the first time Votan said "thank you for answering the call" and I had a beautiful feeling of humility, love and service, and a profound feeling of submission to the divine plan. Jacob and I digitalized all of Votan´s graphics for the Cosmic History Chronicles Volume II, this was an amazing and fun experience, to know that our work was helping in the evolution of our beautiful Pacha Mama. Jacob and I organized ourselves and made a schedule to have the graphics done for the time needed.
At the FLT office in Ashland, I also helped Jacob with packing orders and Spanish communications which was also an inspiring experience to realize how this amazing knowledge is spreading all over the planet!
Ashland is very different from Maracaibo, the city where I live, especially the weather, but I adapted myself very quickly, we need to be prepared for all kinds of changes and be able to adapt and always feel at home. Everywhere on Earth is home.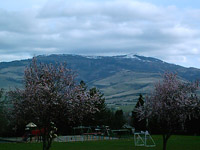 While I was in this soul filling adventure there was an FLT board meeting where kin from different parts of the world came to Ashland. There were kin from Japan, Russia, Italy, Switzerland, United States and I from Venezuela. We shared a lot of experiences about PAN, our cultures, and made a nice brotherly bond with everyone, I'm very grateful for this experience. At the meeting with Votan and Red Queen they shared the position of the FLT, the Galactic Research Institute in New Zealand and the mission to 2012. A big subject of reflection for me was the lack of support to the Foundation in the United States of America. I remember one morning Votan said to me in Spanish "para la primera vez la Fundación no tiene fondos" (for the first time the Foundation has no funds) I remember feeling that that was a big sign from God.
Finishing the graphics of the CHC Vol. II was very exciting!! We felt the amazing God sent energy of the book in every graphic. After finishing the graphics we started to work on a new image for the FLT website lawoftime.org this happened really fast! We were so inspired and excited about doing this that we did it in two days! Another amazing project we started to work on was the "Master Synchronic Code Book" I had already participated in this before when I was in Venezuela and I would have never imagined I was going to be in Ashland working on it again!
Jacob and I started to work on the Master Code Book amazed at all the incredible knowledge that this book is going to have!
My departure from the United States was getting near and we had more work to do, I felt in my heart that I wanted to stay. We filed an application for an extension of stay to homeland security and I was able to stay until I got a response which they said could take a 100 to 150 days!
Then exciting adventures began to unfold! We had to find someone to take over the distribution in the USA of all the magical materials of the FLT after it´s relocation as the Galactic Research Institute in New Zealand. Jacob had sent a call to the kin in the USA asking for help taking over the distribution. We only got one response, Ryan Lay White Rhythmic Dog from Oneonta, New York. We decided to take the inventory ourselves in a U-Haul across the USA from Ashland to Oneonta. We were all getting ready to make big moves and encounter great adventures!
Before our magical galactic-gypsy road trip across USA, we went to Santa Rosa, California to the 28th Harmony Festival where Votan was going to give lectures about the road to 2012, it was the last presentation he did in the USA before the big move, and Jacob and I were going to help together with Tim Self-existing Dog, Forest Planetary Sun and Van Rhythmic Star at a table the FLT had there. Votan's lectures were amazing, always opening the consciousness of all the listeners to reality. Also, the opening ceremony was beautiful, Votan did the opening prayer of the seven directions and a group of Quiche Mayans did a ceremony of healing.
It was an interesting atmosphere at the festival; I always looked for the harmony among the disharmony spots there. I had never been to an event like that before, it was an interesting experience.
Approximately a week after we got back from California we filled up the U-Haul with the help of Tim, Van, Allen Galactic Star and Jesse Magnetic Dragon with all the boxes filled with magical materials and we left on our road trip adventure, we said goodbye to our friends and to Votan and Red Queen.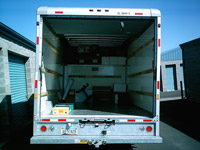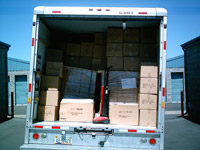 We drove for 6 days from Ashland to Oneonta. Most of the scenery of nature was beautiful! At some points we felt we were in another world! It was amazing!
We also saw dairy farms on the way that were really saddening, the cows were one next to the other, probably chained or caged, with their heads looking at the highway, they were eating a brown thing, and they were standing over mud and most likely cow excrement, the smell was horrible! My heart shrank when I saw that, it's one of the most horrible things I ever saw, it was a sign of the karma generating torture of animals.
When we were on our way, two ladies stopped us because our wheels looked like if they were going to fall out!
We drove really slowly to the next exit and asked someone to look at the wheels and give us some advice. One of the men that talked to us told us to go to a stop where truckers stopped so we can get some advice from them, we drove to the truckers stop and we asked one of the men there, who was enjoying an ice cream, to look at the wheel and give us some advice. He touched it and said it was no problem because it wasn't hot and that we could go ahead with no problem. We felt relieved to hear those words! Thank God! We got in the truck and drove a little so he could see how they looked while we were driving, he gave us thumbs up! We rolled down the window, said thank you and gave him and his friend a pocket 13 moon calendar.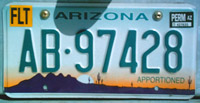 In one of the stops we made, a man asked us if we were going to Oneonta, and he told us that because of some flooding that had happened a part of the highway we were going to take was closed. He then explained another way to get there.
When we were arriving in Oneonta we saw some flooded houses at the side of a lake, it was impressive I had never seen a scene like that before. When we arrived to the town there was a thunderstorm and pink lightning was flashing before our eyes. It was an interesting thing that we arrived after the flood and during a thunderstorm lightning spectacle.
We met Ryan Rhythmic Dog and him and his girlfriend Lindsay Overtone Wizard received us in their home. We had really interesting conversations with Ryan and we unpacked some of the boxes of Mystery of the Stone kits and 7:7::7:7 kits to a little storage room he had at his house. After having a couple of those interesting conversations we realized that the communication was not clear about how long they were going to take over the distribution. From what he said to us we knew that their intention was only to help us in the transition and do the distribution for a limited time. We realized that although Ryan and Lindsay had a good intention of service this was not the best place for the distribution center to be because the people involved in it needed to be stable at the place they lived in and have some time every week to pack the orders. They agreed to continue the generous and selfless support they've given to the FLT and we thanked them for leading us this way and being part of the divine plan.
After this we had to find another person to take over the distribution. Ryan and Lindsay kindly offered their home to us while searched for someone else. At that moment we had an interesting feeling of adventure not knowing what was going to happen. The FLT had used all the funds getting the inventory there and we had to turn in the U-haul van in a couple of days! We needed a miracle. The fist person we thought of calling was Walter Bauer Yellow Galactic Warrior an amazing 84 year old from Watertown NY who has always contributed to the FLT together with the kin that assist to the round table Cosmic History study group. Jacob called him and his response was that there was a possibility but that he needed some time to talk about it and reflect about what it entailed with his wife Marjorie Self-existing Star before giving us an answer.
Jacob made other calls to other kin in the USA and their response was negative or they needed to be paid. We felt the lack of support the FLT had in the USA.
Finally we got a response from Walter saying that he and his wife Marge would try it for a month before making a decision. We packed up the U-haul again and left to Watertown NY.
We arrived at a motel in Watertown and paid for 7 days because they gave us a special discount, we got some groceries for those days and waited for funds to come to be able to look for a place for the magical materials and an apartment. The U-haul van was due and we also needed to pay a late fee on it.
While we were at the motel I received an e-mail from my dear sister Merxte Blue Crystal Storm from Spain asking where she could send us some of Red Magnetic Moon Year Sinchronometers. I answered that we didn't have an address right now and I told her what was going on and to give us her telepathic support and also I asked if she could help us get the funds to do what we needed to do. She sent the e-mail to her whole e-mail list and We started to receive support e-mails from beautiful kin! Thank you!!! Also we received enough donations from international kin to make the next move we needed to make.
Walter offered his service to drive us everywhere to find a place to stay and store the magical materials. We found an apartment that included a garage! Perfect! We moved in and stored all the materials in the garage, everything was divinely guided!
We fixed up a little office space in the studio apartment and continued working on the Master Synchronic Code Book.
Jacob and I made a trip to New York City to get Jacob's visa to go to Brazil for the 2nd Planetary Congress of Biospheric Rights. While we were there we visited where the Twin Towers were and we walked all around the place with the banner of peace. An interesting thing to reflect about is that only 1 couple of tourists asked what was the banner and even took a picture of it, other people just looked. We also visited the Nicholas Roerich Museum, it was amazing! A treasure box of wisdom in there!