PAN Portugal - Crystal Moon Report - In Portuguese

Pan Portugal, que está integrado no Boom Team, vai mais uma vez idealizar, produzir e montar o Boom Festival 2006.
O Boom Festival proporciona experiências individuais, sociais e culturais únicas num contexto tribal alternativo, incluindo na sua actual dinâmica a abordagem ecológica como forma de alcançar uma nova etapa na consciência humana.
O ano 2006 revoluciona o conceito de festival psicadélico criado e recriado ao longo dos sucessivos encontros, privilegiando-se desta vez a arte de se harmonizar com a natureza, e também o retorno ás práticas ancestrais de sintonia e respeito pela vida, utilizando-se na sua  construção materiais orgânicos, técnicas e saberes de ontem e de agora, recriando um novo futuro.
O Bambu que vai ser o material predominante deste festival, insere-se numa visão da vida e da existência baseada na conservação, protecção e regeneração das florestas e da natureza, nas energias renováveis, na cultura da reciclagem, no apoio ao trabalho artesanal dentro dos princípios do comércio justo, na promoção da beleza orgânica e da qualidade ambiental, na permacultura no desenvolvimento auto-sustentável, em que o homem utiliza os recursos naturais de acordo com a capacidade de renovação dos mesmos.
A cana de bambu é oca, representando este vazio a capacidade que temos de nos esvaziarmos do antigo para dar lugar ao novo.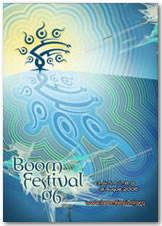 PAN Portugal - part of the Boom Festival Team
Boom Festival 06 - Portugal
3-4-5-6-7-8-9 of August 2006
Magnetic Moon 9-15
Boom Festival is a global art, music and culture gathering held every two years in Portugal's sun-drenched countryside in a stunning outdoor location on the shore of the Lake Idanha-a-Nova.
Bringing together the latest in psychedelic audio and visuals, art installations and workshops this week-long event is a harmonic convergence of people, energy, information and philosophies from around planet Earth and beyond.
www.BoomFestival.org

Bamboo Bio-Construction At The Boom
Since May 15th that Boom Festival has started to give life to its infrastructures. Some days have passed and everything is set to receive one of the newest projects for this year's edition: The festival venue will held three organic structures of medium and large size, conceptualized by the majestic Balinese Artist and Bio-Architect, Amir Rabik. The three thematic areas - Dance Floor, Chill Out, Liminal Village - will have bamboo made structures according with the cosmic guidelines for 3 D reality patterns creation. A workshop on Bamboo Bio-Construction will also occur in Idanha-a-Nova.