PAN Scotland - UK - Sun Bioregion - Overtone Moon Report

Greetings All Kin
It is now the fifth moon so as Pan Scotland we have much to communicate, this being our first Pan Report !
In the first moon we held a Day of Time Magic Exploration at a local Community Hall.
Pan Scotland Events :: http://www.spirit-of-yggdrasil.com/page244.aspx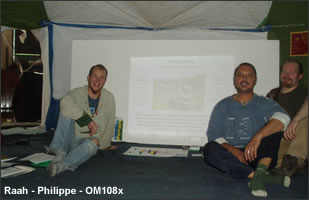 This occurred on Kin 108 (Dreamspell). It was a full day with only short breaks for lunch & tea. Here we wove together the work that my brother (Om108x) and I (Raah) have been co-creating regarding the Ancestral Roots of 13 Moons, The Torch of Life & Arcturian Shield Program. This was assisted by the magnificent of Philippe (5 Wind) who bridged our work with sections on the Dreamspell & Telektonon. In the evening after a long day there was the Psy-Trance event Planet Monkey to dance into the night with.
Ancestral Roots of 13 Moons :: http://www.spirit-of-yggdrasil.com/page334.aspx
Dreamspell of Timeship Earth 2013 :: http://www.spirit-of-yggdrasil.com/page152.aspx
The Torch of Life :: http://www.spirit-of-yggdrasil.com/page67.aspx
Arcturian Shield Program :: http://www.spirit-of-yggdrasil.com/page94.aspx
After the Day presentation of 108, I (Raah) travelled down to England for the Big Green Gathering (112-117). www.big-green-gathering.com. This was a wonderful experience to be in. Here, along with the thousands of Festival goers, there was a Pan Dome with workshops, discussions & events going on Night & Day. To be around all the Pan UK Kin was awesome and most inspiring. Thank you Pan UK.
The second moon was when we had the pleasure of meeting and being initiated by the Wizards of OZ ! Lore & Peace. With them we journeyed to see the Crystal Skulls. See their Pan Report for the fourth moon for more details.
Pan Australia Report 4th Moon :: http://www.planetartnetwork.info/page143.aspx
During that time we also were introduced to Eliahi (5 Warrior) who passed our way Documentaries on the Legend of Atlantis 1-3 of 5. It was while searching for that last 2 parts of the series that I (Raah) discovered this fantastic website for downloading Alternative/Occult/Free Energy/Secret informations (Videos & Texts). This hub of activity is listed below:
Conspiracy Central :: http://www.conspiracycentral.net:6969/index.html
(Note: You will need to sign up on Conspiracy Central & download programs like Bit Lord or Bit Torrent to download these files)
The third moon saw the return of Us (Om108x, 5 Wind & Raah) to the Community Hall for another presentation on Natural Time Ancestral Roots of 13 Moons, Kin - 164. This time with another Workshop on Overtone Chanting also being shared. It was in conjunction again with the Planet Monkey Crew. Big hugs to them for all the awesome energy.
Planet Monkey :: http://www.planetmonkey.co.uk
In the fourth moon we began a new series of events called 2012 :: Discussion & Action Group. We were given the space at the back of a Spiritual Book Shop called Body & Soul to meet, and we have been meeting every 13 days ever since. The 2012 DNA Gatherings began on Kin 207 :: Blue Crystal Hand. The Topics so far have been:
1. The Enigma of 2012
2. 13 Moons of Natural Time
3. World Calendar Change :Notes: http://www.spirit-of-yggdrasil.com/page350.aspx
The next 2012 DNA meeting will be taking place on Kin 246 :: White Crystal Worldbridger and be on the Topic of Permaculture Ethics & Principles.
2012 DNA Gatherings :: http://www.spirit-of-yggdrasil.com/page341.aspx
During this current fifth moon the investigation I (Raah) am presently engaged in relates to the Realignment of the Fire Festivals of Celtic, Pagan, Wiccan & Druid origin. The details of this investigation can be viewed here:
Fire Festivals Realignment :: http://www.spirit-of-yggdrasil.com/page349.aspx
The main focus of our 2012 DNA Meetings is to gather Kin to begin co-creating a new Community for Sustainable living (), to be developed on a piece of land in Scotland. At the time of the formulation of this project we were informed about this Petition to the Scottish Parliament regarding planning policies on Ecovillages:
Ecovillages Petition ::
http://epetitions.scottish.parliament.uk/view_backgroundinfo.asp?PetitionID=73
It is indeed a pleasure to be able to express this all in a Report for the Pan Kin of the World. I have read all the Pan Reports so far and I am really excited about all the new energy that is appearing from each of the Nodes. This is a wonderful gift that has been given by the Kin of UK. An extra special thank you goes out to them.
May the message of Votan be heard in every corner of the globe and may we all wake up to the New Heaven & New Earth refreshed and ready to be again a Galactic Culture.
Peace + Love + In Lakech
Raah (13 Eagle) and the Kin of Scotland
www.spirit-of-yggdrasil.com
Blue Solar Night
Silio 28 Overtone Moon
Yellow Cosmic See Year
Email:
Om108x memnosis118@yahoo.co.uk   01314411244
Philippe - philippehoik@hotmail.com   01314779244
Raah raahsirus@yahoo.com   01314414481
PAN Scotland Spirit-of-Yggdrasil.com
OM108x - White Magnetic Mirror