PAN UK - Rhythmic Moon
PAN UK MEETING IN LONDON
This Planet Art Network meeting was a chance for members of PANs from London, Scotland and Avalon to catch up with each other and discuss the planning of some forthcoming events. It was an interesting note on the international nature of PAN that when the original circle of 13 (!) kin formed at the beginning of the day, there was only one English person (Mark, Galactic Wind) and one Scottish person (Ormangandr, OM108X).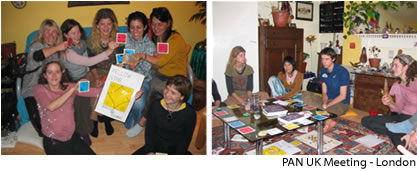 The circle was very harmonious and focused upon setting forth a consistent and integrated programme for co-operation. The most notable idea that emerged from this was the request for a teaching event that focused on enabling those who are proficient in following the calendar themselves and who are already sharing the information to become confident in giving introductory workshops on the 13 Moon Calendar and Dreamspell.
13 MOON & DREAMSPELL TEACHING EVENT- COMING SOON
This will fill the gap that exists between very introductory workshops and talks that assume no knowledge of the Law Of Time and the more comprehensive and committed teachings of the Earth Wizard Practise.
The first of these events will be held in Glastonbury in the next moon. It will be a Gregorian weekend long event that will cover comprehensively the 13 Moon Calendar and Dreamspell, but will also focus on related matters that often come up in question and answer sessions, such as the relationship between Dreamspell and the traditional Maya calendar and theories, opinions and information about 2012.
The idea is that after completing the intensive, the participants will be able to follow up with a self-study programme that will culminate with their first workshop group.
If you are interested in attending please contact PAN Avalon through wavespell ( info@wavespell.net) or phone us directly on 01458 835808.

PROJECT MERRIMENT - PAN BRYSTAL
PAN Bristols second event was held again at the Trinity Community Centre just before Winter Solstice. The enthusiasm of the first event had crystallised into a highly conscious focus for the second, with fooling workshops, yoga, a collective trance dance journey through the charkas with DJ Taoin (a guest from PAN Elfinstone) and an amazing improvised speaking in tongues sound healing voice performance from Ashera Hart. This event proved that a conscious gathering could hold the attention of everyone here for a long and varied day of positive and purposeful activity.
Bristol (or Brystal- as they prefer it!) and its PAN core of galactivagents Adam and Mike hold plenty of promise!

WINTER SOLSTICE 2012- 7 years to go
STONEHENGE CEREMONY AT DAWN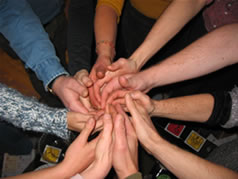 Winter Solstice began for us at Stonehenge with a the open access arrangement that has been re-won by the hard work of committed individuals and druid orders throughout recent years. It was amazing to see the growth in numbers. On the first access- just 7 years ago, there were just 20 people. Last year, maybe 200 or a little more. This year, bolstered by the now immense popularity of summer solstice, more than 2000!
This exponential increase made it a little less intimate than usual, but the circle was powerful and the more subtle sound healing gathering was held outside of the circle near the station stone on the perimeter. A good beginning to the day.
THE INTERDIMENSIONAL GALACTIC COSTUME BALL
This event was Avalon at its most celebratory (always a good moment!) with plenty of involvement from PAN through PANgaia productions, PAN Avalons event production offshoot that co-hosted the event with Family Gathering. Kin came from London, Bristol and further a field to dress up and dance under some amazing galactic dcor to the sounds of Dragonsfly the supremely talented Celtic and Breton band followed by DJs Galactic Wind (Mark) and Ben R-Tek, Crystal Seed.
The fractal resonance with the end point of the 13 Baktun Count was palpable. And in this collective energy raising we crossed the threshold of the last 7 years!
Also of interest are Family Gatherings plans for a large, but visionary Summer Solstice festival this year. Check out www.sunrisecelebration.com for more details.
PANGAIA UP AND RUNNING
Our new PAN orientated space in Glastonbury, PANgaia, is now up and running. Decorated entirely with organic paints, natural flooring and recycled timber this is an eco-office project in Glastonburys most alternative office and workshop building, The Old Clinic, which also contains therapy rooms, a music studio, the Hemp in Avalon office, the office of the Big Green gathering festival and more.
The purpose of this space is provide a base from which we can more efficiently manage the distribution of calendars and materials from PAN as well as planning and staging other events and hosting space workshops in the space.
We will also be concentrating on developing the wavespell e-shop as a portal for all related material at low cost and helping with the maintenance, updating and editing work with both www.wavespell.net and the new global portal www.planetartnetwork.info.
The contact number, +44-1458-835808 and address: The Old Clinic, 10, St. Johns Square, Glastonbury, Somerset BA6 9LJ- remain the same.