Human Banner of Peace in front of the Palace of Currency
Santiago, Chile. Electric Moon - Gamma 10.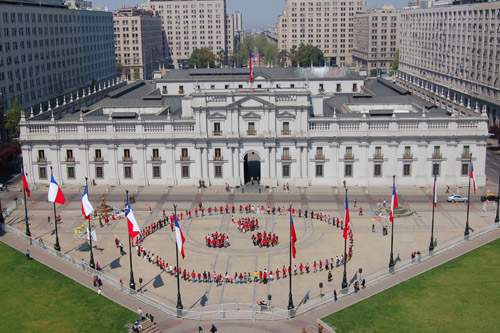 Below the spring sunshine, the human Banner of Peace was formed by hundreds of people at the Constitution Plaza in front of the Palace of Currency, close to noon of Kin 223: Blue Lunar Night.
The participants got together before noon, dressed in red, carrying Banners of Peace, and carried balloons given to them by a stilt-walker gave form to the 9,000 year old symbol, known as "the red cross of culture".
Men, women, children and whole families reaffirmed their compromise with peace, through dance and prayers for our Planet. Also, the attendees wrote their wishes of peace on colored papers placed on strings and touched by the wind, these will be sent to the United Nations.
Tourists from different nationalities that at the time were visiting the Palace of Government demonstrated their interest on the activity and they received a flyer that stated the principles of peace through culture of the Banner of Peace. (Planet Art Network Chile)
Photographs courtesy of Marcelo Dauros Inostroza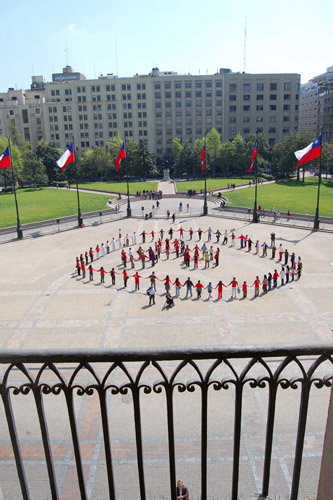 Social organizations summon a massive act for peace
at the Constitution Plaza
For the activity, programed for tomorrow at 11 hours, it is planed to form a human banner of peace.
La Tercera.com
The Metropolitan Council of the Fortification of the Civil Society Fund, integrated by representatives of social organizations and of the government of Chile announced today the realization of a manifestation for peace tomorrow Sunday at the Constitution Plaza between 11 and 13 hours.
The activity will be done within the framework of the celebration of the international day of peace and of the Resolution of the United Nations which approves the International Peace through Culture Decade 2001 - 2010, between whose dispositions it is indicated that it encourages "the media to participate in the education for a culture of peace and not violence, giving special attention to children and teens...".
One of the planned symbolic activities for that day is the realization of a human banner of peace, to which all the inhabitants of the city and people interested in world peace are invited to participate. In second term, there will be structures on which the assistants will place papers with their expressions of support to peace and with their committment to ending violence and wars.
The National Executive Secretary of the Fortification of the Civil Society Fund and coordinator of the activity, Juan Pablo Lazo made an invitation to each one of the people interested in peace to get together at this manifestation.
"The Counselors invite to meet and to unite, because in this way we will harness our strength. The purpose is to clarify that the meaning of the action of association is the promotion of a culture of peace", he said.
The act is sponsored by Unesco, Asong and the Division of Social Organizations of the Minister Secretary General of Government.