---
ATLANTA, GA - USA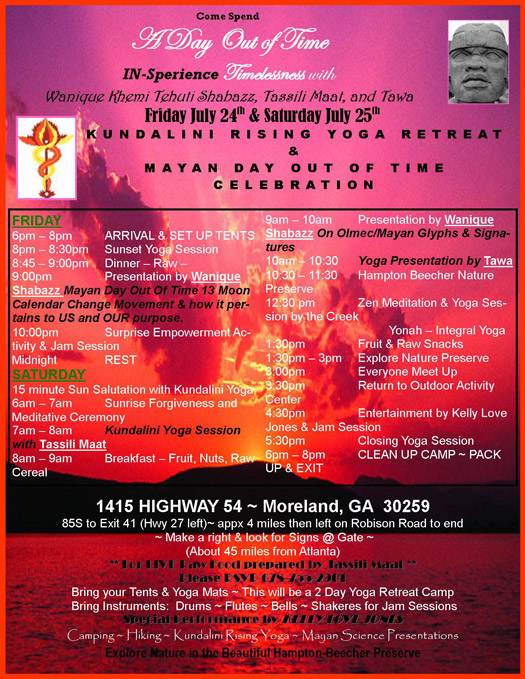 MAYAN DAY OUT OF TIME
YOGA RETREAT
Friday July 24th  & Saturday July 25th
(Friday 6pm to Saturday 8pm)
LOVE DONATION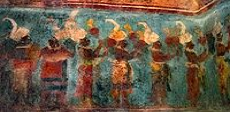 OUT-DOOR ACTIVITY CENTER
1442 Richland Rd SW  ~  Atlanta, GA  30310
(404) 752-5385
** For LIVE Raw Food prepared by Tassili Maat **
Please RSVP 678-755-2901
Bring your Tents & Yoga Mats  ~ This will be a 2 Day Yoga Retreat Camp
 Bring Instruments:  Drums ~ Flutes ~ Bells ~ Shakeres for Jam Sessions
Special Performance by KELLY LOVE JONES
Camping ~ Hiking ~ Kundalini Rising Yoga ~ Mayan Presentations
Explore Nature in the Beautiful Cascade Preserve
LIVE RAW FOOD will be Available to Purchase
or bring your own (LIVE RAW FOOD ONLY!)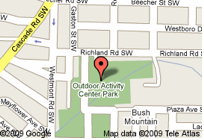 ITINERARY FOR RETREAT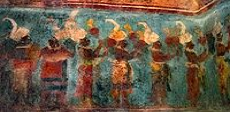 Friday July 24th  & Saturday July 25th
OUT-DOOR ACTIVITY CENTER
 FRIDAY
6pm – 8pm                  ARRIVAL & SET UP TENTS
8pm – 8:30pm    Sunset Yoga Session  - Instructor TBD
8:45 – 9:00pm    Eat Dinner
9:00pm               Presentation by Wanique Shabazz
Mayan Day Out Of Time 13 Moon Calendar change
movement & how It pertains to Us and our purpose.
10:00pm             Surprise Empowerment Activity
Midnite                REST
SATURDAY
Wake up 30 minutes before Sunrise to Prepare
10 minute Sun Salutation with Kundalini Yoga
6am – 7am                  Sunrise Forgiveness and meditative Ceremony
7am – 8am                  Yoga Session with Tassili Maat
8am – 9am                  Eat Breakfast
9am – 10am       Presentation by Wanique Shabazz
on Olmec/Mayan Glyphs & Signatures
10am – 10:30     Yoga Presentation by Tawa
10:30 – 11:30     Hampton Beecher Nature Preserve
12:30 pm            Zen Meditation & Yoga Session by the Creek
1:30pm               Fruit & Snacks
1:30pm – 3pm    Explore Nature Preserve
3:00pm               Everyone Meet Up
3:30pm               Return to Outdoor Activity Center
4:30pm               Entertainment by Kelly Love Jones
5:30pm               Closing Yoga Session
6pm – 8pm                  CLEAN UP & PACK UP CAMP & EXIT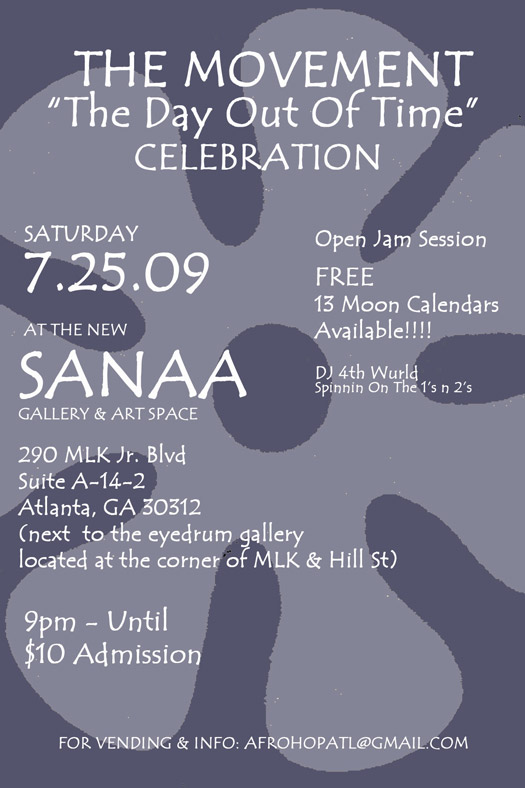 Tenisio "DJ 4th Wurld" Seanima
www.theshrine.podomatic.com
J O I N  T H E  W U R L D ! ! !
"A noble failure may be of more value than a petty success. The man who sets his goals too low and who accepts too little as enough, squanders the talents and abilities with which Almighty God and nature have endowed him. Let us set our goals too high; let us demand more of ourselves than we believe we possess."
H.I.M Haile Selassie I
"The sun does not speak. It is mute in the awesome brillance of its being as it awakens and sustains life. It does not boast. It does not need or heed accolades and rhymes. It simply does as the sun does. There is strength in modesty. Humility is the garment of fortitude and substance. We must do and be as Afrikan men, as Afrikan women do and are; quiet, clear and engaged in an impassioned pursuit of truth, righteousness, and sovereignty."
Kwame Agyei and Akua Nson Kyoto
The Sankofa Movement
---
NEWARK, NJ - USA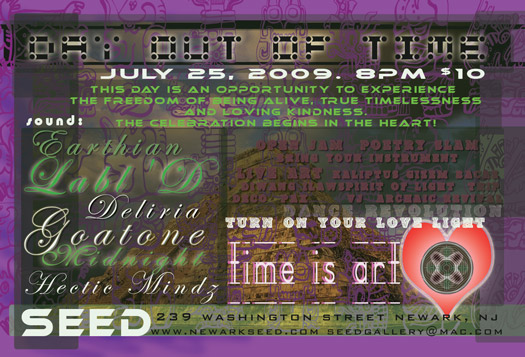 Spoken Life with Nasir
Open Jam-Bring Your Instrument
LIVE ART BY KALIPTUS AND GIZEM BACAZ
Performances by Diwang Ilaw-Spirit of Light & TRIP
Deco by Archaic Revival
DJ's:
*********Earthian****** (Animaltek,Omnitribe) http://www.djearthian.com/
************Goatone********
http://www.djmix.net/Goatone
**********MIDNIGHT********
*******Labl'D***********
*****DELIRIA******
Hectic Mindz
R>E>Y>
Let us know if your are interested in volunteering for this event.
$10/cover
---
MOSCOW - RUSSIA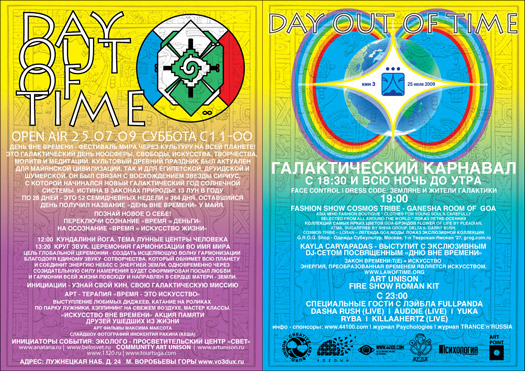 ---
GRAVATAL, SC - BRASIL
AMOR Y ALEGRIA !! dede la bio-region del Caminante, Termas de Gravatal, estado de Santa Catarina,Brasil
Estaremos celebrando el dia fuera del Tiempo, reconocido como dia municipal de la Paz a traves de la Cultura,
habra diversas representaciones de arte, esculturas, alimentacion bio-energetica, fuego ceremonial, circulo de didjeridoo, conciertos de musica, con grupos como Jamaica Groove.
A patir de las 13:20, esperamos a tod@s,
mandamos abrazos y besos noosfericos a todos los seres de la Red de Arte Planetaria
!Que la Paz Prevalezca en la Tierra!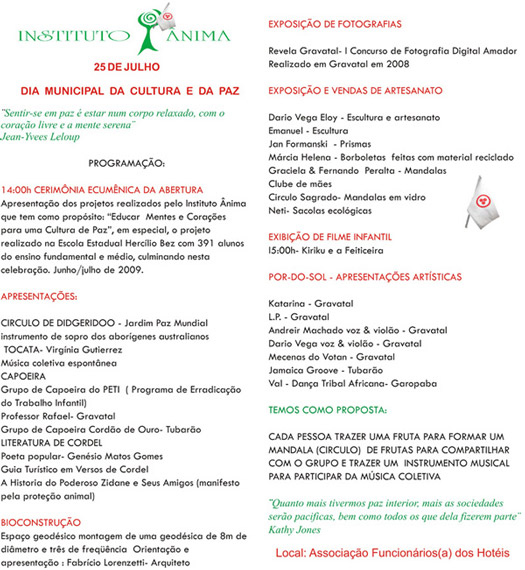 ---
ANTIOCH, ILLINOIS - USA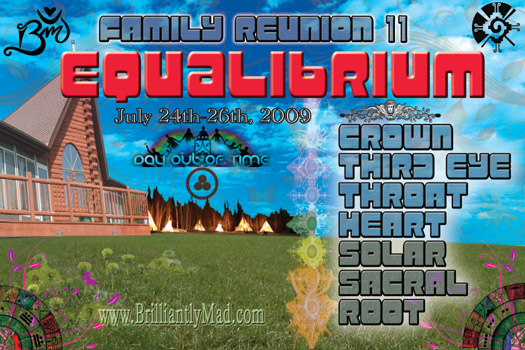 The weekend of July 24th - 26th, 2009
Family Reunion 11 reTreat into Equalibrium
Want to get High? Naturally high? Break away from the matrix of your past illusions and discover the new you. Receive new consciousness for greater clarity, wisdom, and source energy. We come together from all different spectrums of reality to bridge the rainbow of consciousness.
This is the eleventh consecutive year BrilliantlyMad has hosted the Family Reunion gathering. On our journey this year we will light our internal flame together and progress through the seven Chakras. We will first liberate ourselves through the cosmos into transcendence then manifest our visions back down to ground our intentions.
Your journey at Family Reunion 11 is personal yet amongst friends. As we lift others they in turn lift us, ascending together. Retreating from the outside to go clearly within, you are invited inward to rediscover your core being. Our intention by the end of this gathering is to elevate consciousness, feel more uplifted, radiate more joy and vitality, and have a stronger connection with your precious body temple and God source.
Everyone participating will design a personal contract for their journey while supporting each other as we transform together. Each person will be asked to share some of their personal magic at the event--whether it be decorating or building structures, leading a workshop, preparing a meal, reciting music, organizing and coordinating people, design, volunteer or anything else your heart desires.
This event is aligned with the Mayan New Year! Friday is the end of the 2009 calendar year and Sunday begins the New Year 2010. Saturday is considered "A Day Out of Time;" it is a day that is off of the calendar. So come celebrate this magical weekend with us and defy time, entering the interim where even the galactic calendar takes a day off to rediscover itself before the New Year begins.
PAN - Planet Art Network
Peace Through Culture - Time is Art
Spirituality, Art and Science surrounded by the Unity of Everything
Galactic Freedom DAY OUT OF TIME
A day to share with the world our dreams, forgive others and forgive oneself of all our debts, to rise above and step out of routine of "Time is money" to Time is Art.
Let's come together, free creative souls, to be as one, be thankful, smile and sing.
The galactic energies of this new year
bring us the cycle to clarify what we want to grow in the gardens of our lives, plant seeds with conscious intention, and nurture their unfoldment with compassion and wisdom!
The Galactic Butterfly is an ancient Mayan symbol said to represent all of the consciousness that has ever existed in this galaxy. It is a symbol of unity, which connects people regardless of distance, events, or time. We will be asking everyone who will not be able to attend Family Reunion to also BE IN EQUALIBRIUM wherever they are over the weekend of July 24-26, 2009. This means to be in solidarity with our mission of healing and transformation while being in a conscious and sober state of awareness. You will also be able to follow along with us as we liberate and manifest through the Chakra channels all weekend long, connecting to your highest purpose and potential.
Family Reunion 11 is open for the first 111 amazing people to form this tribe on July 24-26, 2009. Once this number is met our community will be sealed.
The cost of the weekend is $33.00, which includes your meals and all of the workshops, but if you can support our mission with a larger donation please do so.
We ask that everyone attending stay the whole weekend and refrain from taking any unnatural or intoxicating substances including alcohol.
This private location is in Antioch, Illinois right on the border of Wisconsin. Directions will be sent to everyone who gets a confirmation in their email accounts.
Some essential things to bring:
Camping supplies, tent, mosquito repellent (lemongrass oil), blankets, pillow, warm & cool loose fitting clothes, yoga mat, chair, dancing shoes, flashlight to light your way, positive vibes & intentions, journals, artwork, healthy snacks to share, reusable food utensils & water container, water if you don't like well water, biodegradable soap, natural remedies for healing station, wrapped present for grab bag, donation to our special raffle, books to trade, poems & passages, drums & instruments, poi hoops & juggling toys, tiki torches, labyrinth branches & fire wood, sacred items for the alter, chakra alignment stones, personal contract with yourself, your most celestial outfit & shot glass for the New Year.
Leave No Trace: What you bring in please bring out.
If you will be joining us this weekend email rsvp to Equalibrium@BrilliantlyMad.com quickly as we are only opening the gates for the first 111 people who join our community by pre-registering.
We look forward to experiencing you all there =)
In Lak'ech (I am another yourself)
BrilliantlyMad Crew
---
FORT MYERS BEACH, FLORIDA - USA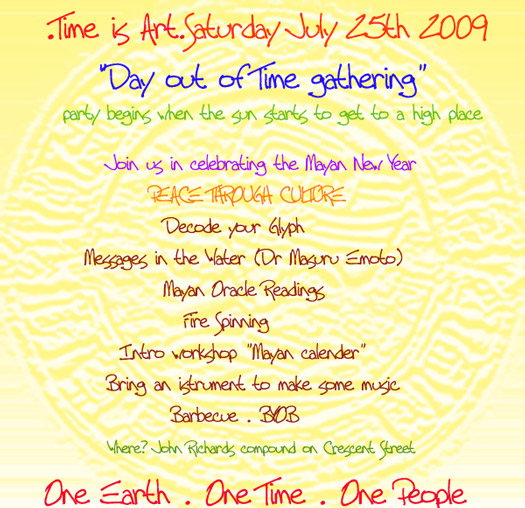 ---
CHARLOTTE, NC - USA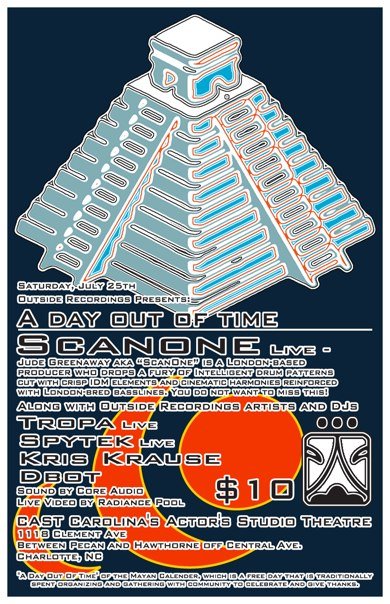 Kris Krause DJ Mixes
http://postbocks.com/audio/download/3742/EleKtrO+freQuency.mp3
http://postbocks.com/audio/download/3574/gLiTcH+mIx.mp3
http://postbocks.com/audio/download/4716/2-01+Warehaus+Mixtape.mp3
---
BARRANQUILLA - COLOMBIA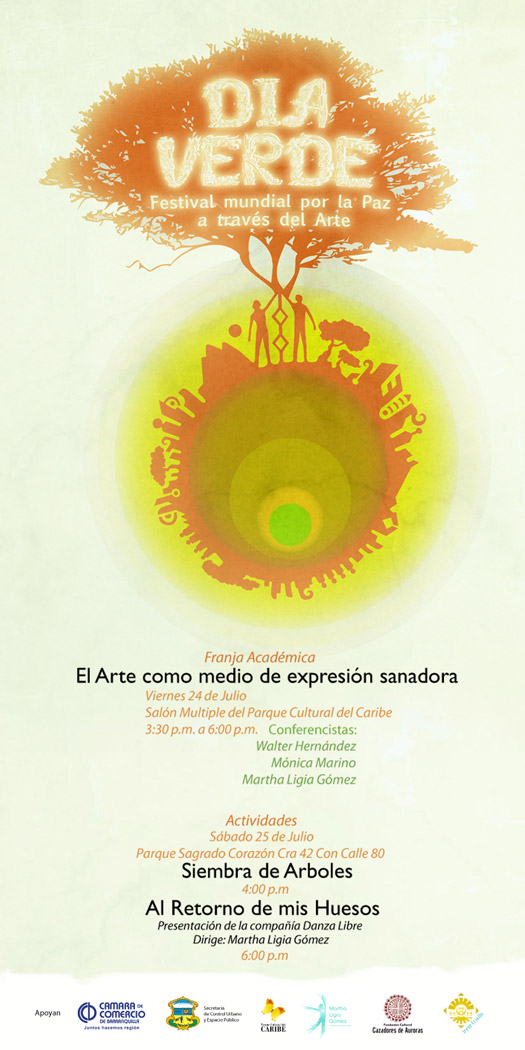 ---
HOLLAND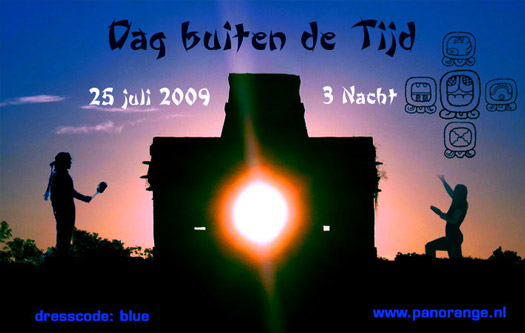 The Day out of Time in Holland will be celebrated throughout the country:
Utrecht- Driebergen: http://www.panorange.nl/dagbuitendetijd2009.html
Limburg - Meers http://www.jaarringfestival.nl/
Noord-Holland- Den Oever
Noord-Holland - Bovenkarpsel
Gelderland: Lichtenvoorde:
Brabant - Heerle
Duitsland/Holland - de Vlierhof, Kleve
---
MORELOS - MEXICO
PARA SER UN MAGO DE LA TIERRA, ¡ES PRECISO SER LA TIERRA!
NINGUN RASTRO DE MIEDO, NINGUN RASTRO DE RENCOR,
NINGUN RASTRO DE ORGULLO, NINGUN RASTRO DE AUTO-COMPASION
PERO SÍ: TODO EL CORAJE, AUTO-COMPRENSIÓN, PERDÓN Y
AMOR INCONDICIONAL.
 
QUERIDA FAMILIA CÓSMICA:
EL PRÓXIMO SÁBADO 25 DE JULIO ES EL DÍA VERDE DEL ANILLO TORMENTA ELÉCTRICA
NOS VAMOS A JUNTAR PARA FESTEJARLO EN LA CASA DE LA COMUNIDAD A LAS 11:00
DE LA MAÑANA PARA MEDITAR TODOS JUNTOS A LA 1:00 EN PUNTO
DENTRO DEL PROGRAMA DEL DIA ESTA LA DIVERSIÓN EN FAMILIA, PINTURA, MÚSICA, 
DANZA Y LA YA CONOCIDA CEREMONIA DEL FUEGO NUEVO. 
CUALQUIER ACTIVIDAD SUGERIDA,  PREPARENLA Y LA HACEMOS.
ES IMPORTANTE TU PRESENCIA. CADA UNO DE NOSOTROS ESTAMOS APRENDIENDO
A SER MAGOS DE LA TIERRA Y NOS NECESITAMOS UNOS A OTROS.
EL TIEMPO ES ARTE.
 
¡AH YUM HUNA KU EVAM MAYA E MA HO!
SEA LA PAZ DE LA NATURALEZA DEL COSMOS EN TODOS Y EN CADA UNO
 
IN LA KESH
---
BARCELONA - ESPAÑA
Hola Keridos Kines
celebraremos el Dia fuera del Tiempo en el Parke Ciutadella de Barcelona España despues de las 1320 Horas hasta las 20 13 hs oki doki
llevar Amor, Juguetes,Instrumentos Musikales,Comida para compartir,y aprender el sincronario del Nuevo Tiempo de la semilla autoexistente amarilla kin 4.4
el Tiempo es arte
Para informes
Oskar kin 123
651349939
www.nomades.cjb.net
www.keenbee.blogspot.com
Inlakech
---
GERMANY
Tag außerhalb der Zeit (25. Juli), ein Fest für den Frieden, ein Fest für die Erde. Erlebe die Zeitlosigkeit nach dem Motto "ZEIT IST KUNST".
Bringe mit gute Laune, Kreativität, etwas für ein gemeinsames Essen, Zelt und Schlafsack (wenn du übernachten möchtest), Musikinstrumente ...
Ort:
PAN Tiwaz
Lindenhof 1
78532 Tuttlingen-Möhringen
Weitere Infos
07462 6259
pan-tiwaz@neuzeit.info
---
ITALY
Italy
Giardino di Cultura Galattica
PAN AHAU
Movimento Mondiale di Pace
per il cambio al calendario di 13 Lune di 28 Giorni

Invita a Partecipare al
Giorno Fuori dal Tempo
25 Luglio 2009
Notte Elettrica Blu

"La Coscienza Planetaria- la Noosfera è la Condizione di Risonanza Telepatica con la Terra come Entità Vivente che Riflette a vari Livelli il Piano di Evoluzione Mentale- Spirituale, al quale L'umanità è destinata a rispondere per superare con successo il Punto Omega- 2012"

Programma nel flusso temporale del Giorno fuori dal Tempo –
Giorno di Cultura, Pace, Libertà Galattica, Perdono e Superamento,
T(E)=ARTE. Il Tempo è Arte non è Denaro

Sincronizzarsi al nuovo tempo: il Sincronario delle 13 lune di 28 giorni come fondamento per lo sviluppo delle Comunità Sincroniche Sociali.
Coscienza noosferica e portale omega 2012, cammino oltre l'ego individuale, di gruppo.
Tutto è musica: Porta uno strumento musicale. Codici e Suoni di Sincronizzazione
Ascolta solo il silenzio e conoscerai: Meditazione Galattica. La telepatia condivisa come fondamento nella comunità.
Riformulazione Mentale Cooperativa Cristallo
Cerimonia delle Sette Iniziazioni alla Coscienza Planetaria
Meditazione Noosferica-il Ponte Arcobaleno, Noi e la Terra siamo Uno
Cerimonia del proposito per il nuovo Anello solare dopo la mezzanotte
Seme Autoesistente Giallo (26-07-09)
Informazioni e luogo evento:

Fregene (Roma) via Portocivitanova, 32
Tel.:0666560051
3496632159
e-mail: stenar14@tiscali.it
---
BUENOS AIRES - ARGENTINA
Holas,
Queriamos invitarlos y avisarles que realizaremos una variete en La Huerta de Saavedra organizada por el espacio CUCOCO por el día fuera del tiempo. Esa es nuestra 8va variete. La direccion es Plaza Oeste 3565 y Nuñez en el barrio porteño de Saavedra, Capital Federal. Para más info pueden visitar nuestro sitio web en www.cucoco.com.ar
Les dejamos un gran saludo.
Espacio CUCOCO.
---
URUGUAY
25 de julio de 2009. Noche Eléctrica Azul. Kin 3
Nodo Rap Uruguay y Jardín Ur Gaia los invitamos a celebrar
Nuestro 7º Día Fuera del Tiempo:
En Noche Eléctrica Azul: activando abundancia para todos en servicio a la Tierra!
Desde la mañana nos reunimos en el jardín Vivenciando las dinámicas por familias terrestres
Pintamos mandalas para el futuro techo del comedor comunitario
Practicamos Yoga
Al mediodía meditación del puente arcoiris
Nos sincronizamos con la ceremonia de gracias y amor al agua
Concierto de cuencos
Trae tu aporte para preparar y compartir Alimentación vegetariana
26/07 Semilla autoexistente amarilla
Celebramos el año nuevo renaciendo Con Temazcal al mediodía
Jardín Ur Gaia
Base del Nodo Rap Uruguay
Espacio de desarrollo Holonomico del Ser
Ruta 48 km 2.7oo Las Brujas. Canelones. Uruguay
nodorapuruguay@hotmail.com
móvil 094407907 . manik
---
JAPAN
Please visit http://2009outoftime.hp2.jp/ for Day Out of Time events in Japan
---
SAN FRANCISCO, CALIFORNIA - USA
Dearest Kin!
There is so much happening around the Bay Area this year celebrating Day Out of Time, we're switching things up a little bit in light of some last minute invites.
We will still be meeting at Golden Gate Park at 10am, but will only be staying for a few hours until we migrate over to the Superhero Street Faire, where they will have a space set up for 13 Moon activities. We are receiving pocket calendars from the fine folks up at Law of Time in Ashland in limited quantity, so be sure to show up to Golden Gate Park to get your free one! We may be asking for donations at the street faire.
Sorry about the short notice (I gave y'all a 7-day advance!) ... am updating the Facebook event as well. So here's a schedule for next weekend:
July 25 ~ Blue Electric Night ~ Day Out of Time
Hippie Hill Hangout - 10am-1pm - Golden Gate Park, San Francisco
Come hang out with us as we gather traditionally at Hippie Hill. We will set some energy for the day and the new year ahead before we head over to the Street Faire.
http://www.facebook.com/event.php?eid=83435711011
Superhero Street Faire - 1pm-Midnight - Cesar Chavez & Indiana, San Francisco
Celebrate the superpowers in you! Using your glyph and tone, you can be a time-travelling superhero with magickal powers of creation! This event came out of the blue; with multiple dance stages, vendors, and a special space for Day Out of Time activities, how could we pass this up?
http://www.facebook.com/event.php?eid=96980358615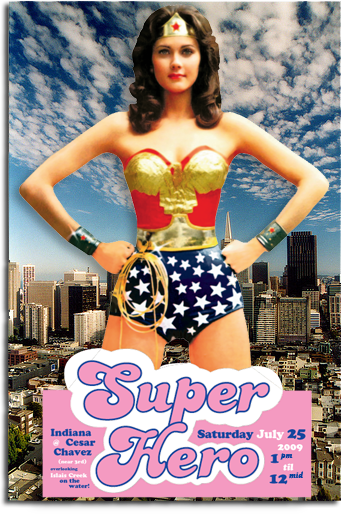 July 26 ~ Year of the Yellow Self-Existing Seed
Psychic Faire & Spiritual Healing Festival - 1pm-6pm - Berkeley, CA
Join the Berkeley Psychic Institute in celebrating the new year! The faires are a great opportunity to receive a free aura healing, have a psychic reading, and become aware about your own psychic powers!
http://www.facebook.com/event.php?eid=101131606830
Once Upon A Sunday - 3pm-Midnight - 1117 Howard St. @ 7th, San Francisco, CA
Come receive some vibro-acoustic healing at this house music event hosted by the wonderful folks at Sera Phi ... check the Facebook listing for more info!
http://www.facebook.com/event.php?eid=110618676766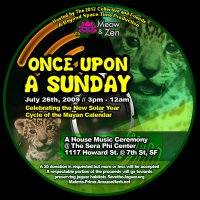 ---
ECUADOR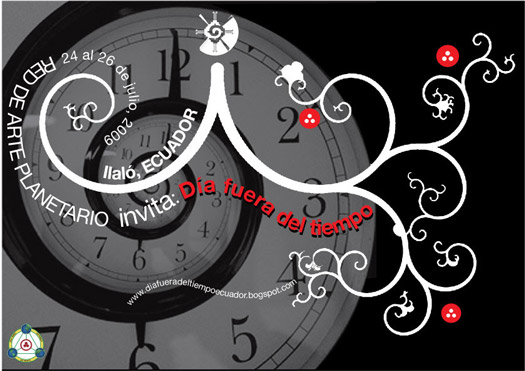 Yo soy otro tú
Tú eres otro yo
Aquello que somos está
escrito en nuestro corazón.
DÍA FUERA DEL TIEMPO
FESTIVAL MUNDIAL DE PAZ A TRAVÉS DE LAS CULTURAS
PROGRAMACIÓN GENERAL
VÍSPERAS
Viernes 24 de julio - Viento Lunar Blanco
Desde las cuatro de la tarde las personas pueden llegar al Jardín de la Vida para ubicar sus carpas.
Habrá Fuego – Temascal – Cena comunitaria - Descanso
DÍA FUERA DEL TIEMPO
Sábado 25 de julio - Noche Eléctrica Azul
Empezamos a la salida del sol con la meditación ARCO IRIS CIRCUMPOLAR
Desayuno comunitario
Saludo a las Siete Direcciones
Círculo de visiones alrededor del fuego: Trece Lunas
Música en vivo
Exposiciones de arte y artesanías con trueque (traer cosas lindas para truequear)
Yoga Inbouth: demostración de asanas
Práctica antigua de cultivación integral de la naturaleza y la vida (Falun Dafa)
Pintura comunitaria
Teatro Raza Q´eche: Laboratorio de artes performáticas El Kin Q´eche
Rito artístico andino: Un pacto de ternura con la vida
Círculo Deeksha: bendición de la unidad
Cucayo comunitario (almuerzo)
Música y danza de la India con Kuntydd
Círculo de poesía y literatura
Círculo de saberes
Meditación ARCO IRIS CIRCUMPOLAR
Teatro
Música: Chillout y música de la tierra
Psy Trance (DJs: Rudra Tandava y Pinteiro)
INDICACIONES NECESARIAS:
El DÍA FUERA DEL TIEMPO es una vivencia comunitaria. Es muy importante tomar en cuenta que el Ilaló es un lugar donde la naturaleza también va a compartir con nosotros y por eso es vital cuidar el lugar en todo sentido; cuidarnos entre todos; ser sumamente responsables de la basura y desechos; que cada quien se ocupe de eso con mucho empeño. Ese será nuestro mayor compromiso si decidimos ir. Lo que ya no nos sirve, lo guardamos en una funda y lo llevamos de vuelta a casa. Para quienes fuman cigarrillos, hacerlo con respeto, sin arrojar las colillas (sugerimos guardarlas en una botella vacía).
FUNDAMENTAL:
Llevar agua. En el lugar hay agua para el aseo pero no para tomar. Las botellas vacías de agua son de responsabilidad de cada persona.
Llevar alimentos para compartir en comunidad. Seamos abundantes. (papas, choclos, pan, mote, tostado, queso, chochos, habas, frutas, verduras). Esto junto con el agua son el boleto de entrada.
El Día Fuera del Tiempo no tiene nada que ver con ventas, comercio, egoísmo ni mentalidad capitalista. Es para vivenciar el tiempo como arte. Tampoco habrá espacios para las bebidas alcohólicas ni necesitamos drogarnos. Viviremos la estética del entorno y el comportamiento.
Llevemos nuestros instrumentos musicales, nuestros escritos.
El día fuera del Tiempo no tiene horarios fijos, pero esperamos poder compartir desde muy temprano en la mañana, todas las actividades.
El mapa del sitio lo enviaremos en estos días.
Nota: Para las personas que van a acampar TIENEN QUE CONFIRMARNOS para efectos de organización e indicaciones sobre lo que es necesario llevar.
RED DE ARTE PLANETARIO ECUADOR
Paulina Íñiquez (Tel. 2598434 – Cel. 096202154 – magiaresonante@yahoo.com.ar)
María E. Paz y Miño (Tel. 3237435 – Cel. 099039484 – muluc@hotmail.com)
diafueradeltiempoecuador@gmail.com
http://diafueradletiempoecuador.blogspot.com
IN LA´ KECH – A LA´ KEN
YO SOY OTRO TÚ – TÚ ERES OTRO YO
ÑUKAKA KAYSHUK KIKIN KANI – KIKINKA ÑUKA SHUKTAK KANKI
MI AMOR VIVE CON VOS
---
LIMA - PERU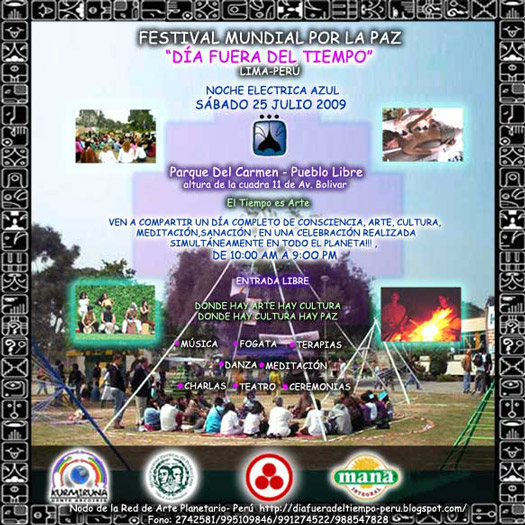 FESTIVAL DE PAZ-DIA FUERA DEL TIEMPO
Lima-Perú
25 de julio 2009
KIN NOCHE ELECTRICA AZUL
Parque El Carmen-Pueblo Libre
Alt. cdra. 11 de Av. Bolívar. Lima- Perú
Ven a compartir un día completo de Conciencia, Arte, Meditación, Sanación y Unidad, en una celebración realizada simultáneamente en todo el planeta
TODO EL DIA /Entrada Libre
" Donde hay Arte hay Cultura, donde hay Cultura hay Paz "
Plegaria a las 7 Direcciones
Danzas Universales de Paz
Bendición Mundial del Agua: 13:20 horas
Compartir de Alimentos Vegetarianos
Servicio de Terapias Bioenergéticas
Ceremonia de Agni Hotra
Circulo de Sonido
Meditación Arco Iris Circumpolar
Charlas
Arte Mandalas para niños y niñas.
Taller de Geometría Sagrada
Exposiciones
Música Sikuris
Tambores por la Paz
Circulo de Mujeres
Taller de Comida Vegetariana
Punto 13:20
Sorteos, diversión y magia!

¡¡¡¡TE ESPERAMOS!!!!!
---
CONZUMEL - MEXICO
Celebrating in Cozumel Island (Xkan-Ha reserve, right in the middle of the
jungle) the Blue Electric Night (DOT) with a Temazcal, Mayan Steam Lodge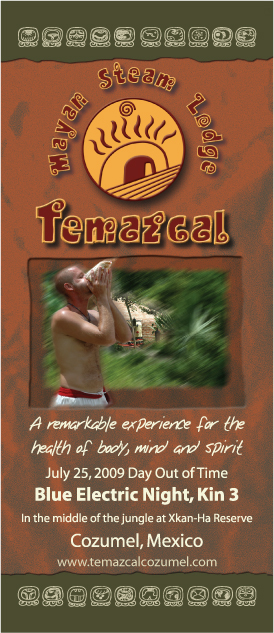 ---
ASHLAND, OREGON - USA
Global Water Blessing with Dr. Emoto and Day Out of Time celebration at the Mystic Garden Party - http://www.mysticgardenparty.com/index.shtml - Water Ceremony: http://www.mysticgardenparty.com/water-ceremony.shtml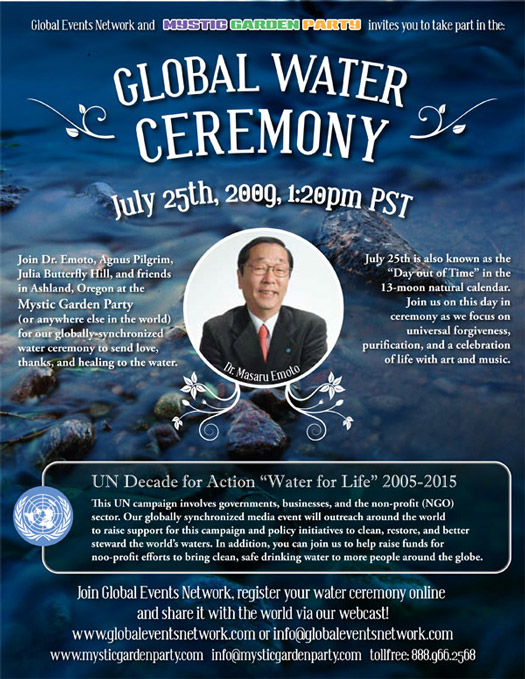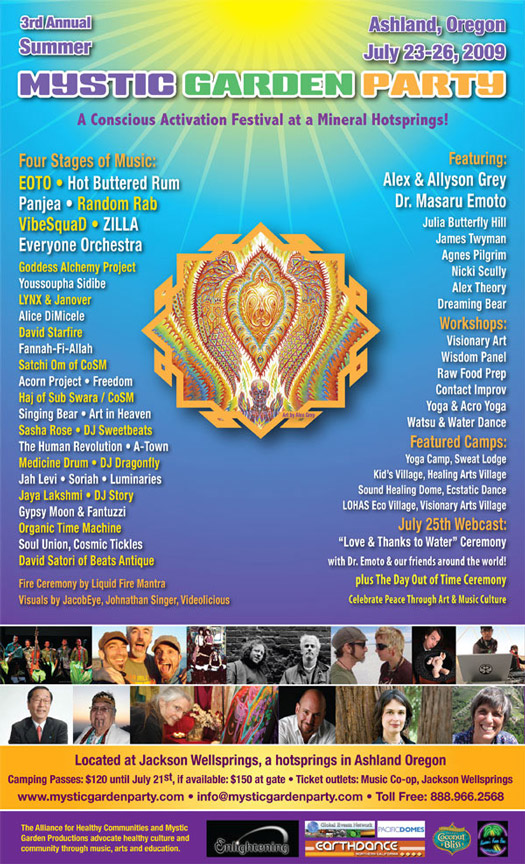 ---
CERRO MOCTEZUMA, NAUCALPAN - MEXICO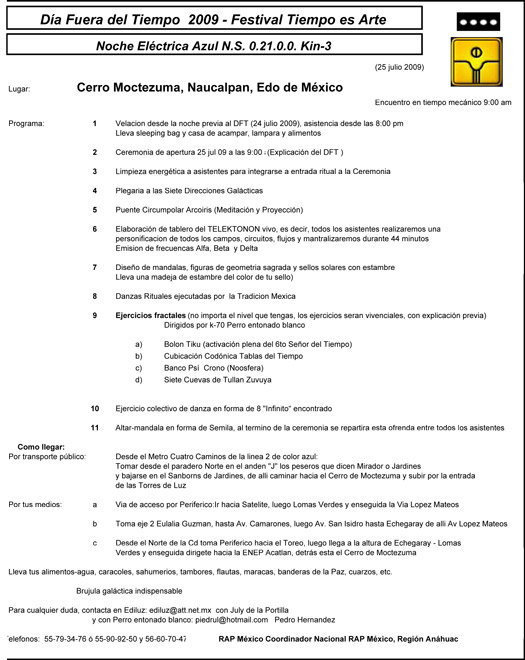 ---
TULUM - MEXICO
Hola! aqui en Tulum - México, estamos organizando la celebración del DFT en la Posada Dos Ceibas, con música, bailes, meditaciones, conferencias y mucho más
Gracias por la difusión de este grandioso evento de paz!
Mil bendiciones
Paola Ubiergo
Etznab
Espejo Cristal Blanco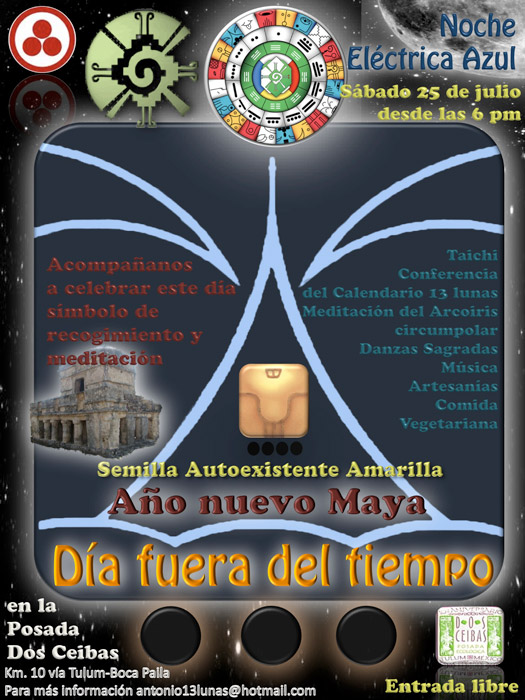 ---
SAN JUAN DEL RÍO, QUERÉTARO - MEXICO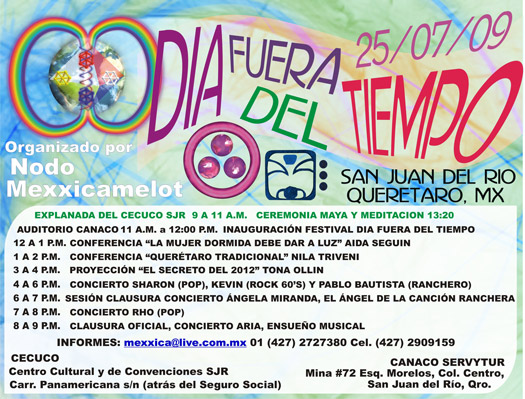 PROGRAMA
25 de Julio / Festival Día Fuera del Tiempo

SEDE EXPLANADA CECUCO
9:00-11:00 Ceremonia del DFT

SEDE CANACO
11:00-12:00 Inauguración Festival Día Fuera del Tiempo
12:00-13:00 La Mujer Dormida debe dar a Luz, Aida Seguin
13:00-14:00 Ponencia Querétaro Tradicional / Nila
14:00 – 15:00 Comida
15:00 – 16:00 Proyección "El Secreto del 2012" Tona Ollin
16:00 – 17:00 Concierto de Pop, con Sharon, Sueño Musical
17:00 – 18:00 Concierto Musical:
Kevin (Rock Clásico) y Pablo Bautista (Ranchero), Sueño Musical
18:00 – 19:00 Sesión de Clausura / Concierto Ángela Miranda
19:00 – 20:00 Concierto Rho
20:00 – Clausura Oficial / Concierto con Aria, Sueño Musical

*Este programa está sujeto a cambios.

CECUCO (Centro Cultural y de Convenciones de San Juan del Río).
Carr. Panamericana s/n (atrás del Seguro Social)
76800 San Juan del Río
Teléfono: (427) 2722691

CANACO SERVYTUR
Cámara Nacional de Comercio, Servicios y Turismo
Mina #72 Esq. Morelos, Col. Centro, San Juan del Río, Qro.
Tel: 01 (427) 129-9995 y 129-9105
E-Mail: canacosjr@axtel.net.mx


SI TE INTERESA APORTAR EN ESPECIE:
Necesitamos los siguientes materiales:
Materiales de limpieza : Cloro, Pinol, Papel de Baño, Jabón en Polvo, y otros, por un total de $850 que nos piden en el CECUCO para poder utilizar el espacio.

Cualquier otra situación o detalle no contemplado en este escrito, se irá comunicando en el sitio web: http://13noosfera20.ning.com

HOSPEDAJE:
Les comparto un link con información de hoteles en la ciudad de San Juan del Río para los que nos quieran acompañar:
http://zonaturistica.com/queretaro/san-juan-del-rio/
Los hoteles Colonial, La Paloma, Layseca, Portal de Reyes y Portal Royalty están a una distancia muy cercana de dos de las sedes (se puede caminar).

¡Gracias por la difusión!

Un abrazo arcoíris desde el centro de México a nombre de los organizadores!

Aida Seguin – Hun Ik Nodo Mexxicamelot

Kultura Galákti-K = Pax Noosféri-K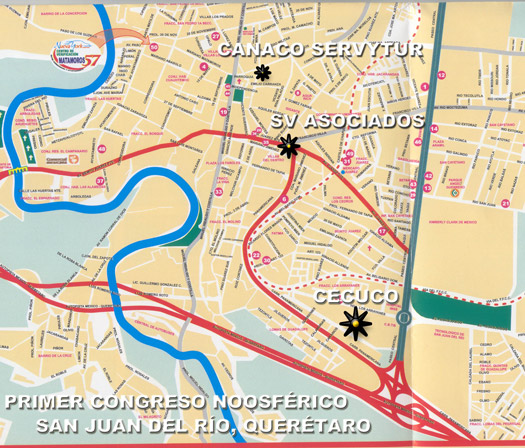 ---
ALICANTE - ESPAÑA
CELEBRACIÓN DEL DÍA FUERA DEL TIEMPO EN ALICANTE
NOCHE ELÉCTRICA AZUL
Como cada año, el día 25 de julio nos reunimos para celebrar el fin de año.
Es NOCHE ELÉCTRICA AZUL de la Onda del Dragón.
Nos encontraremos en el Castillo de San Fernando a partir de las 12 horas.
(En la pinada y césped que hay junto al restaurante)
Puedes venir a compartir cuando gustes, pues estaremos hasta dar entrada el
Nuevo Año
SEMILLA AUTOEXISTENTE AMARLLA
Traete la comida, la merienda o/y la cena y compartiremos.
Haremos la Meditación del Puente Arco Iris a las 19,45 horas
Después la foto de rigor, y a disfrutar hasta la entrada del
Año Semilla 4
Será buen momento para compartir sobre el Forum de la Noosfera, recién
terminado.
Organiza Movimiento 13 Lunas Nodo Alicante-España
Contactar con: M. Teresa. Mago 3
TEL. 696 25 90 11
Durante los siguientes días voy a estar en el Forum de la Noosfera en
Borja-Zaragoza, así que si escribes y no contesto ya sabes que vuelvo el día
23
Dragón Magnético Rojo.

---
CUERNAVACA, MORELOS - MEXICO
A partir de las 9:00am del el 25 de Julio 2009
FESTIVAL DIA FUERA DE TIEMPO
KUAUHNAWAK 2009
Parque Melchor Ocampo
(atras de los autobuses pulman de morelos selva)
Cuernavaca Morelos México
CONFERENCIAS
Teosofia ancestral
TALLERES
Ecología
Calendario maya
SANACIÓN
Meditación y terapias holisticas
ARTE
Pintura
Danza
Música
CONSUME PRODUCTOS BIODEGRADABLES
PON LA BASURA EN SU LUGAR
ALCOHOL NO ES SINONIMO DE FIESTA
MENOS DROGAS MAS MEDITACIÓN
PAZ EN LA TIERRA A LOS HOMBRES DE BUENA VOLUNTAD
Nodo Kuauhnawak / www.soyotrotu.tk
Dias Fuera del Tiempo en el Mundo: http://www.planetartnetwork.info/espanol/dootspa_eventos.html
Healing Beams / www.healingbeams.tk
Kaans Paax / www.myspace.com/kaanspaax
Dj Yol / www.myspace.com/djyol
Sonido Monstruo Interplanar / www.myspace.com/sonidomonstruointerplanar
Divelius Manipura / www.myspace.com/djdivelius
Kuxan Suum / www.myspace.com/kuxansuum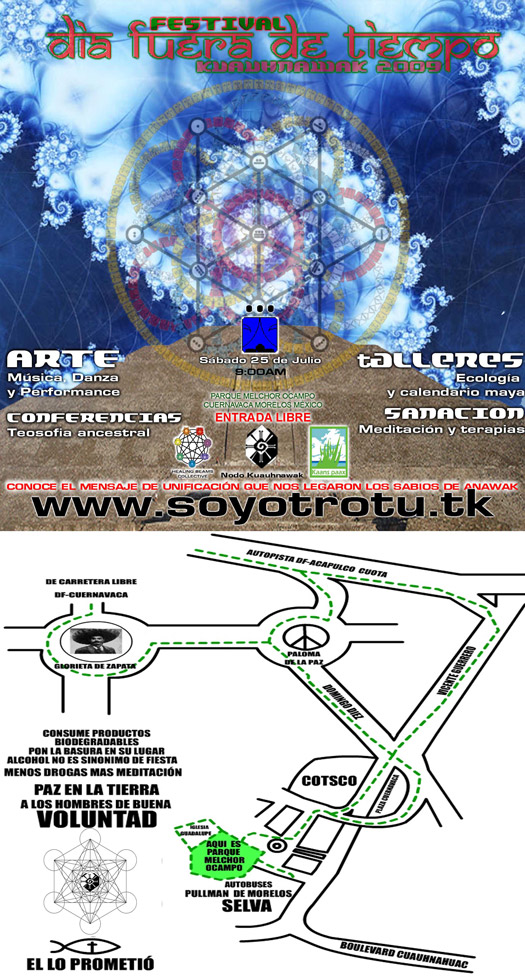 ---
SANTIAGO DE CHILE
La Red de Arte Planetario invita a toda la comunidad al participar en el Festival de Paz a través de la Cultura y el Arte, DÍA FUERA DEL TIEMPO 2009 en Santiago de Chile que se realizará el día sábado 25 de julio, en la Casa de Cultura Anahuac del Apu Cerro San Cristóbal. La celebración se vivirá durante todo el día, comenzará temprano, a las 10:00 a.m. y finalizará puntualmente a las 19:00 p.m. Entrada Liberada, Av. Pedro de Valdivia Norte, sector Tupahue, Parque Metropolitano de Santiago.
Mas Info:
http://www.pverde.cl/
http://bit.ly/dia_fuera_del_tiempo_stgo
Casa de la Cultura Anahuac:
http://www.parquemet.cl/?cat_id=14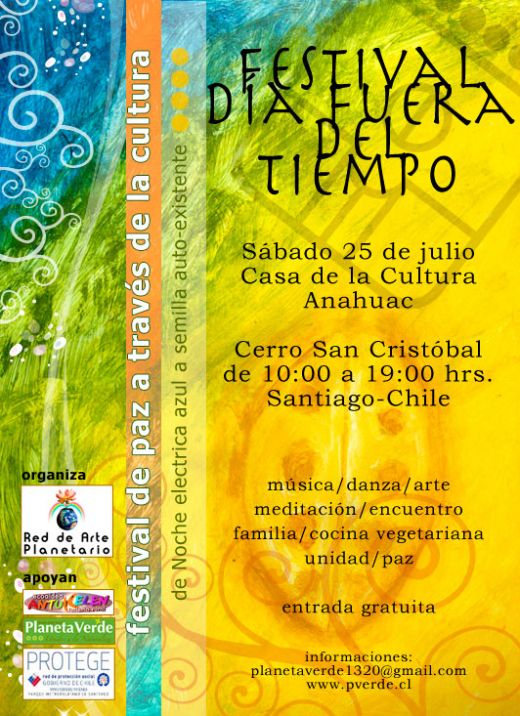 ---
POLAND
Jeżeli nie życzycie sobie Państwo otrzymywać wiadomości od PAN POLSKA proszę o kontakt pod adresem: mitakujeoyasin@gmail.com
Ah YuM HuNaB Ku EvAn MaYa E Ma Ho
(Centralne SłOńCE Naszej GaLaKtyKi WiTaJ HaRmOniO UmYsłU i NaTuRy)
1 Orzeł Mirko
"HUNAB KU" Galaktyczne Centrum Majów
http://13ksiezycow.tripod.com
tel: + 48 602 15 50 70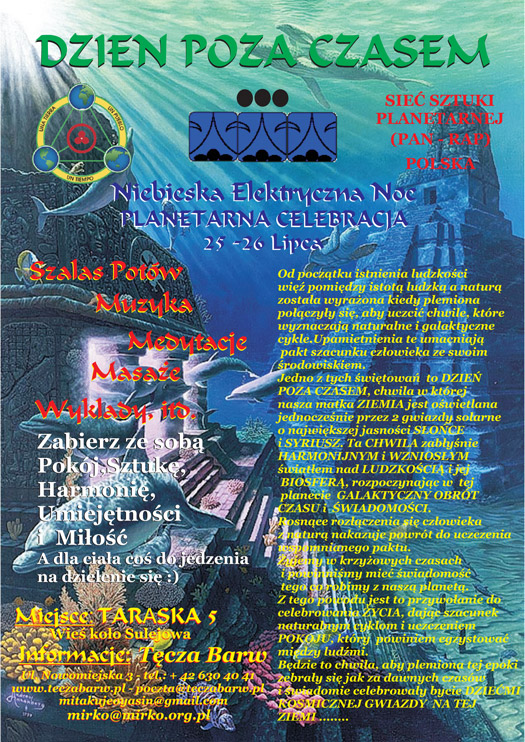 ---
MADRID - ESPAÑA
DIA FUERA DEL TIEMPO EN MADRID

Evento en MADRID EL DIA FUERA DEL TIEMPO en la Casa de Campo

ahis nos encontramos...
te esperamos...

Paz!
abrazos arcoiris...
madrid13lunas@gmail.com

NODO MADRID - 13 LUNAS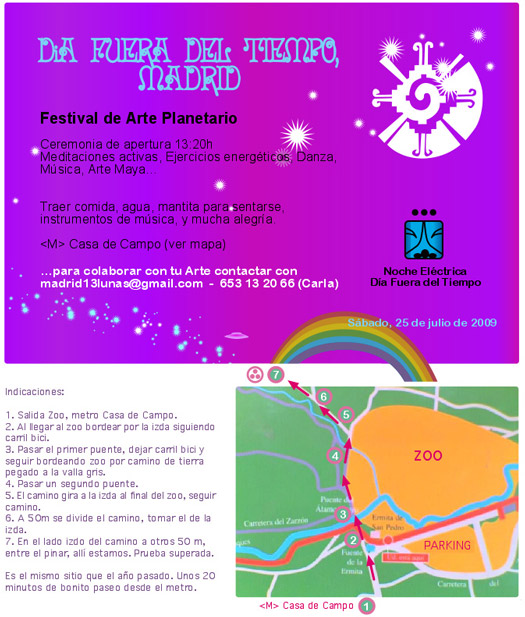 ---
ROSARITO, BAJA - MEXICO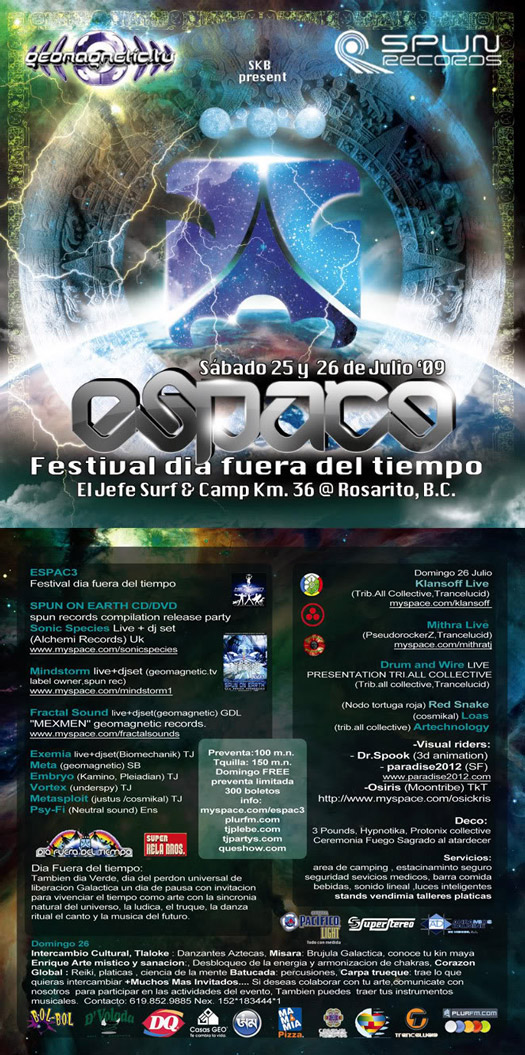 ESPACE
"Festival Día Fuera del Tiempo"
FECHA:
Sábado 25 y Domingo 26 Julio 2009
HORARIO:
6:00 pm sábado
a 8:00 pm Domingo
LUGAR:
El Jefe surf & Camp,
km 36 carretera Libre Rosarito - Ensenada
COVER:
$100 mn preventa
$150 mn día del evento
DOMINGO ENTRADA LIBRE
Sábado 25 de Julio
VISUALS
DECO

Protonix collective
3 Pounds
Hipnotika
CEREMONIA FUEGO SAGRADO AL ATARDECER
Domingo 26 Julio
Sirio-B connection
Klansoff Live (Trib.All Collective,Trancelucid)
myspace.com/klansoff
Mithra Live (PseudorockerZ,Trancelucid)
myspace.com/mithratj
Drum and Wire Live (Trib.all collective,Trancelucid)
myspace.com/drumandwire
Red Snake (Nodo tortuga roja)
Loas (cosmikal)
myspace.com/loasmusic
Artechnology (trib.all collective)
myspace.com/artechnology
CHUX (AVR agency)
TAMBOR RAIZTICOS (Música de raíces / Trance / Tropical )
www.myspace.com/tamborraizticos
Intercambio Cultural
Tlaloke : Danzantes Aztecas
Misara: Brujula Galactica, conoce tu kin maya
Enrique Arte mistico y sanacion:
Desbloqueo de la energia y armonizacion de chakras
Casa de la energia: platicas pensamiento positivo, simbolos
Corazon Global : Reiki, platicas , ciencia de la mente
Constelaciones Familiares: Camino al alma
Nodo tortuga roja: talleres 13:20, mandalas, simbolos
Batucada: percusiones
Carpa trueque: trae lo que quieras intercambiar
Muchos Mas Invitados....
Si deseas colaborar con tu arte, comunicate con nosotros
para participar en las actividades del evento, Tambien puedes
traer tus instrumentos musicales.
Contacto: Tel (619) 852 9885 Nex. 152*183444*1

Dia Fuera del tiempo:
Tambien dia Verde, dia del perdon universal de liberacion Galactica un dia de pausa con invitacion para vivenciar el tiempo como arte con la sincronia natural del universo, la ludica, el truque, la danza ritual el canto y la musica del futuro.
En todo el planeta, el Día Fuera del Tiempo, es un día reservado para el festival y la comunidad... Los focos centrales son: Paz Planetaria a través de la Cultura; detener el negocio, como siempre; atender a la verdad de que "El Tiempo es Arte"; liberación de deudas; purificación; el Arte de la Paz... El Día Fuera del Tiempo, siempre cae 25 de Julio. En la Cuenta de 13 Lunas, este día no pertenece a ninguna Luna (mes), ni ninguna semana (o Héptada). Está entre medio del cierre del año previo (24 de Julio), y el amanecer del nuevo año (26 de Julio). La bandera oficial para el Día Fuera del Tiempo es la Bandera de la Paz. Este día es una oportunidad para experimentar la libertad de estar vivos, realmente sin tiempo y amorosa bondad. Ya sea en reuniones públicas o círculos privados, este día es una plataforma de despegue catalizadora para el año que viene, un gran aprovechamiento de la Presencia Telepática, y una manera perfecta de invitar nuevos participantes a la Armonía de las 13 Lunas. La Celebración comienza en el Corazón!
25 de Julio de 2009 EL DÍA FUERA DEL TIEMPO
La necesidad del hombre de organizar su vida con relación al tiempo hizo que fueran creados los calendarios. A partir de la observación del movimiento regular del sol y de la luna fue posible a los pueblos antiguos determinar las épocas para plantación y cosecha, las lluvias, la seca, y así determinar las posibilidades de las actividades del hombre.
El pueblo maya creo mas de 20 calendarios para medir y organizar el tiempo, armonizando los ciclos de la naturaleza, del universo y del hombre. Para ellos lo que deberia ser observado en el tiempo no era su medición sino sus cualidades. Cada día tenia un tipo de energía que se relacionaba con la vida, con los hombres. Para los mayas el tiempo es una repetición constante de ciclos, con saltos de evolución al final de cada ciclo. El tiempo es evolución.
El Calendario Lunar, dividía el tiempo en 13 lunas, por lo tanto el año tenia 13 meses de 28 días = 364, y más un día adicional que corresponde al día 365, llamado de DÍA FUERA DEL TIEMPO. Se observa en la pirámide de Kukulkán en Chichen Itzá, exactamente en su arquitectura, ese "salto evolutivo": 4 escaleras con 91 escalones cada una = 364. Añadiendo la plataforma de la pirámide que une todos los 4 lados con las escaleras, se tiene un total de 365: 364 + el DIA FUERA DEL TIEMPO = 365, el día de la evolución. Los mayas determinaron como inicio del año solar un evento cósmico que es la ascensión de la estrella Sirius en alineación con el sol. Ese evento ocurre el día 26 de julio (en el calendario gregoriano) de cada año. Entonces el año de 13 lunas o 13 meses comienza exactamente en esa fecha, día 26 de julio de cada año y termina el día 24 de julio. Por lo tanto el día 25 de julio no pertenece ni a un año ni al otro, es un día libre, en que se concentra toda la energía para el año que va a comenzar.
En ese día los mayas se preparaban para un nuevo ciclo. Era un día para dar menos importancia a los asuntos cotidianos, y especialmente bueno para meditar, perdonar, para cancelar deudas, elevar el estado de consciencia, para ser bondadoso, estar en contacto con la naturaleza, sentirse libre y dedicarse a las artes.
Ese día ha sido conmemorado como el festival de la paz a través de la cultura. Es un día de limpieza, reflexión y preparación para recibir, al día siguiente, la energía del nuevo año. Un día para unirnos en pensamiento y deseo, asumiendo el año que se aproxima.
La bandera de la paz se abre para celebrar la integración del arte con la ciencia y la espiritualidad.
---
SOUTH CENTRAL, COLORADO - USA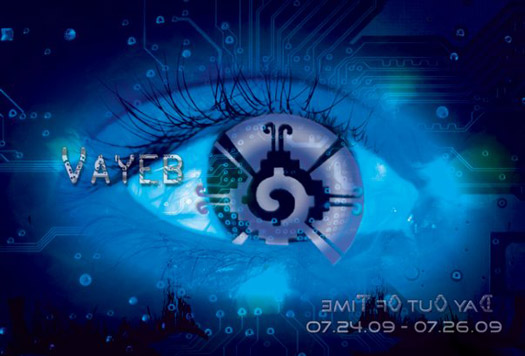 ---
NORTHERN NSW - AUSTRALIA
Hello peace lovers!
The Day Out of Time has rolled around again, so if you would like to come to the Northern Rivers PAN gathering here are the event details and a webflyer you can feel free to send around.
If you would like to be involved with setting up or presenting a group activity at the Day Out of Time, send an email through to me. If you can put posters and flyers out in your local area also let me know and I'll send you a print file or pick-up point.
Thanks very much, hope you have a great time!
With love,
from Even Dawn
Red Crystal Serpent
02 6689 7211
even.dawnsong@gmail.com
www.mindheartmedia.com

THE DAY OUT OF TIME
blue electric night
24th, 25th & 26th of July
at INTER ACTION on The Murwillumbah Rd, Mebbin Springs.
Entry signed on the right side of the road between Uki village and Mt. Burrel shops.
RAINBOW RIVERS BIOREGION - Northern NSW Australia
Camping and van-camping: $15 p.night, $12 p.night conc., $8 p.night kids 6-16 years, day entry $5 + magick hat donations and a bit of f&v and wholefoods for the shared kitchen.
The DAY OUT OF TIME is a co-created collaboration, so please BRING WHAT YOU'D LOVE TO FIND!
some things to bring :
Drinking water
Communal wholefoods
Fresh Fruit & Veg + Extra snacks
Bowl,cup & cutlery
Camping gear (tent, tarp, bed & torch)
Gumboots, raincoat, umbrella (just in case)
Yoga mat
Musical instruments
Crafty bits
Altar decor & artwork
Seeds for mandala
Fun friends & family
ON ARRIVAL : Bring your box of Fruit & Veg and food to the kitchen (then bring your bowl & magic hat donations to meals)
friday - JULY - 24
Kin 2 : White Lunar Wind
MIDDAY: Mayan Motion Movement workshop
ARVO: Sacred Space Construction & Art
Activation - stage design, decor & set build
SUNSET: Dreaming Stories by the fireside
with Burri Jerome, Gina Lakosta & Peace=One
EVENING: Acoustic Jam & spoken word
session, vocal & instrumental freestyles
saturday - JULY - 25
Kin 3 : Blue Electric Night
MORNING: Yr Holon, Yr Hara & The Whole
MIDDAY: Masquerade parade activity
themed "Dreamwalking"
ARVO: Hado Water Crystal blessing
SUNSET: Universal Forgivness Fire Circle
EVENING: 'COSMIC COLLABARET' starring
Channel Free, Imandan, The Kinship Collective,
The Rude, Mystic Beats & more!
Starting at sunset, shared feast served,
themed "Activating Abundance" event
entry is by generous donations as the
magical musical hat gets passed around!
sunday - JULY - 26
Kin 4 : Yellow Self Existing Seed
SUNRISE: Welcome in the 13 moon spin
dawn meditation for the noo-year
MORNING: Seed & flower Mandala crafting
ALL DAY: Vegetalis Australis forum
presenting topics and discussions about
art, plants, healing, peace, sovereignty,
2012 & ultra-culture
ALL DAY: Workshops on blackboard
SUNSET: Sky Lounge Cinema aerial video
watch the Day Out of Time as seen from the
sky, followed by a selection of films & docos
---
BC - CANADA
You are invited to the Crystal Bed of Salt Spring Island to attune to the natural frequencies of Time in a magickal land. This is an all ages community event focused on co-creating a safe and inclusive space for all!
Together we will be sharing knowledge, dance and laughter as we usher in the Mayan New Year and rekindle the ancient flame of wisdom that runs through each one of us.
There will be many workshops in the afternoon including by not limited to:
The Mayan Calendar Count
Juggling and Contact Juggling, Hula Hooping, Poi and Staff (*bring your toys and there will be some provided*)
Pranic Energy Healing
Sound Therapy
Musical Collaboration
...and more to come!
We are also in the works of negotiating a Sweat Lodge being built on the land by a local First Nations Elder.
There will be a cabaret as well, so bring a song, a poem, a skit or whateva' comes to share with everyone!
***If you have a workshop that you wish to offer, please get in touch with the Alchemi Living Arts Crew!***
There will be a beautiful potluck dinner beginning around 6pm, so please bring a dish to share! This is about community, yo!
We will have a kids zone set up, so please bring your children and anything they would like to bring for a show and share! There will be crafts and games for the wee ones and big ones too!
*************************************************************
We have a beautiful line-up of music planned for the occasion with many DJ's coming from off island to celebrate with us!
We also have a master VJ coming to be participate with us...His description will be up shortly!
Here's some descriptions to tantalize your senses...

JOSHUA JAMES
Jyotih Network, Tribal Harmonix
Joshua James will take you on a sacred journey around the world. With over 10 years experience as a dj, joshua's has the unique ability to weave a tapestry of sound that encompasses tribal breakbeats,world beat fusion, and angelic down temple into one Storybook of Sound. From Shambhala,to the Oracle gatherings, to Diversity Music festival,to Tribal Harmonics Intention Gatherings to name a few,,,, Joshua is sure to take you on a journey of sound, through the ancient to the future to the Now.
NILS
Beats Without Borders, Telepaphone
Nils emerged from the deep forest on the Sunshine Coast in the late 90's and was one of a small group of DJ's and Promoters who put that fabled land on the map by organizing many conscious, underground dance events where previously there had been none. Faeries & Fools is the most well known of these events. He now lives in Vancouver where he is a part of the wildly succesful Beats Without Borders Collective.
His DJ style is hard to pigeon hole but one can always expect to hear Global soundz with a slant towards tracks that are spiritual and sexy all at once. He believes each set should be a Journey for the dance-floor though he doesn't always know the destination when the Journey begins.
Shell B ~ Stereoshift | Victoria, BC
http://www.stereoshift.org / http://www.myspace.com/shelby_space
ShellB presides over the decks like a princess over her court of beloved minions, tossing heavy beats down on the ones and twos. As a longtime DJ of Stereoshift Entertainment, she's known to play breaks, electro, funk, tech house, progressive and many other styles - melded beautifully together and looking hot doing it! Everyone knows that good things come in small packages and ShellB is no exception, though her beats are much bigger than her feets! You can be sure when she puts her feminine touch on the west coast sound of dirty bass you'll be disinclined to leave the dance floor anytime soon.
Lyssa ~ www.flydjs.com ~ Having spent a good majority of her childhood in Mexico & being fortunate enough to be exposed to Latin culture, Alissa has a strong desire to explore her roots in her musical selections. Depending on what mood we catch her in, hot summer daze calls for deep sexy Chicago House with its lush driving basslines and on colder nights, expect that drrrrrrty noize from her favorite driving beats: Techno!
Alissa has been a key figure in the success of FlyDJs from its start in October 2005. She was the first FlyDJs "DJ Basix" registered student. Determined to perfect her DJing craft, her learning curve was smooth & fast. Her first appearance as DJ "Lyssa" took place in December 2005. Since then, she has appeared at the Interior's biggest & most popular events like Bounce, Hidden, Grasslands in Kamloops, Habitat, Shine Lounge, & FlyDJs events at The Grateful Fed.
She made Victoria her home in spring 2007. She's has been added to the Stereoshift roster and has performed at some of the city's cool lounges & underground hotspots like The Sunset Room. Her impressive upcomming summer appearances keep her busy: Elevation in Kelowna, Entheos Gathering & Uprising Media Festival both in the lower mainland, and Breakwater Surf & Sound Festival on the Island.
Desuenos~ http://www.facebook.com/inbox/?ref=mb#/pages/DESUNOS/59740051587
Throwing down dynamic dance music since the summer of 2006, DJ Desunos (aka Laughlin Meagher) grew his roots in dub, reggae and world ethno electronic music, and now finds his home in electro/progressive house with a dash of breaks. Through his work as a lead singer/songwriter, dee-jaying has become a natural evolution for this dynamic live performer. With 17 years experience on stage Laughlin knows how to rock an audience and is well known for his harmonica solos, his skill on the melodica and his live MCing & vocals. A skilled multi-instrumentalist and dedicated student of music, you never know what he will bring next to his show. Crossing many genres, Desunos has shared the stage with many local and international acts including Adham Shaikh, Joshua, Kaminanada, David Starfire, Timothy Wisdom, Gaudi, and Liquid Stranger. Coming soon to a bumpin' sound system near you!
Indigo Matter ~Alchemi Arts~
Auditease~ (Talli G. F.N.A Deep Rollers) A Saltspring Native DJ and Producer, that is bringing you the newest sounds in Techno-Funk and Electro. Auditease is an Old Schooler with a new school sound. You may be lucky enough to catch one of his old school Drum'n'Bass, hip-hop or break sets, they are an allusive treat.
His current passion is bringing, poly-rythmic flow and Techno-funk to the dance hall. Less is more and Auditease will leave you wanting more and more.
There will be space to camp so please bring proper camping gear! Also, bring instruments for a daytime jam, CoStUmEs, food to share, a towel (for the sweat or the lake), and any other neccessities!
Please bring your positivity and good intentions...bring a clear mind and an open heart.....and bring friends and family who will thrive in the space we are co-creating!
In the spirit of Community, daytime events up to and including the potluck, is BY DONATION
********************
EVENING FESTIVITIES
Advance Tickets Available at Alchemi Living Arts
$20 donation per human being
$15 with a non-perishable food donation
Children free!
Please leave other creatures at home!
♥ All Proceeds Go To Support Alchemi Living Arts Community Space! ♥
********************
***Also!!! Sunday we will be having a brunch at Alchemi Living Arts in Ganges and then will potentially have a tennis tournament at Central where we'll be setting up some renegade sound and playing for the afternoon, so please bring a tennis racket if you have one!!!***
This is also a special weekend as Nejmah's birthday is Sunday and Joshua's birthday is Monday, so friends, come celebrate with us!
****Stay Attuned for more details to Come as the Mystery Unfolds****
---
GRANADA - SPAIN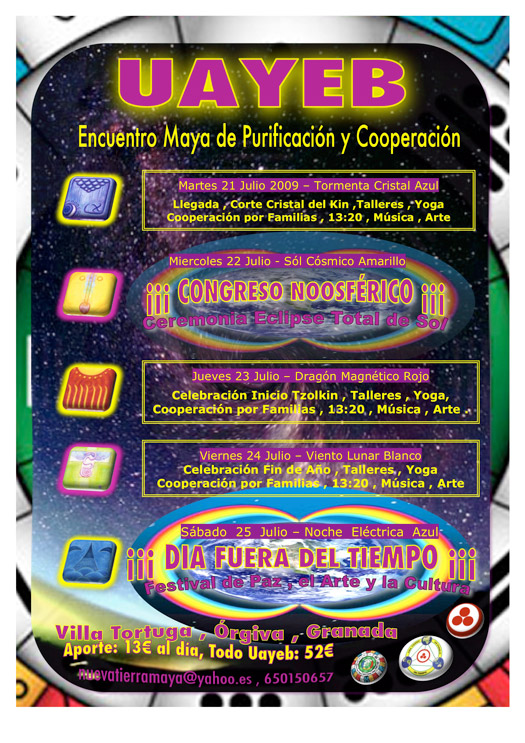 UAYEB
ENCUENTRO MAYA DE PURIFICACIÓN Y COOPERACIÓN
qrqrqrqrqrqrqrqrqrqr
NUEVATIERRAMAYA
 nodo 13 Lunas por la Paz de la Red de arte Planetaria
Convoca a tod@ l@s Magos y Magas de esta Santa Tierra , Mayas Galactic@s ,  Extraordinarios Viajeros del Tiempo , Sanadores , Trovadores y- Cuenta Cuentos ,
Músicos y Danzantes , Payasos y Malabaristas , Yoguis y Yoguinis …
A participar en una celebración por el Nuevo Tiempo
Un Encuentro Maya por la Purificación de nuestro Cuerpo y nuestra Mente
Y por la Cooperación de base en la Cocreación de La Nueva Tierra .
Tomamos los últimos 5 dias del año Maya para la creación de este encuentro ,
Tanto los Mayas como los Egipcios dedicaban estos dias
 para la purificación e introspección con el fin de entrar más limpios y claros
 en el nuevo año , preparados asi para el nuevo propósito anual .
En esta ocasión disfrutaremos de una Gran Sincronia en las fechas del Uayeb ,
Ya que el final del Tzolkin está muy próximo al final del anillo Tormenta 3 .
En este Uayeb estamos organizando un evento satélite del Congreso Noosférico
Para el dia 22 Julio – Sol Cósmico Amarillo , en el que seguiremos las pautas establecidas por La Fundación para La Ley del Tiempo y el Congreso Noosférico ,
Y el Último dia Sábado 25 Julio – Noche Eléctrica Azul , Celebraremos el
¡¡¡ DIA FUERA DEL TIEMPO ¡¡¡
El Día Fuera del Tiempo es el día para celebrar el arte.
Cuando celebramos el tiempo es arte, estamos promoviendo la paz a través de la cultura.
Desde Villa Tortuga , sede de Nueva Tierra Maya ,
les invitamos a compartir y celebrar que el Nuevo Tiempo ya está aquí .
" Dedicados al Nuevo Tiempo en Cuerpo , Mente y Alma
así es como Nuestro Corazón Habla .
Nueva Tierra , Nuevo Pueblo , Nuevo Tiempo
así es el Són de Nuestro Corazón .
Es Nuestro Sentimiento el de Compartir
el Nuevo Tiempo que ya está aqui .
13 Lunas tiene el nuevo calendario
que en el Nuevo Tiempo se llama Sincronario .
Te estamos esperando para Sincronizar
todos los Corazones en este mismo escenario
Amar , Jugar , Bailar y no dejar de Cantar
que 13 Lunas tiene el ¡¡¡ Tiempo de la Verdad ¡¡¡ "
Programa
Martes 21 Julio 2009 – Tormenta Cristal Azul
Llegada , Corte Cristal del Kin ,Talleres , Yoga
Cooperación por Familias , 13:20 , Música , Arte
Miercoles 22 Julio – Sól Cósmico Amarillo
 ¡¡¡ CONGRESO NOOSFÉRICO ¡¡¡
Ceremonia Eclipse Total de Sol
Jueves 23 Julio – Dragón Magnético Rojo
Celebración Inicio Tzolkin , Talleres , Yoga,
 Cooperación por Familias , 13:20 , Música , Arte
Viernes 24 Julio – Viento Lunar Blanco
Celebración Fin de Año , Talleres , Yoga 
Cooperación por Familias , 13:20 , Música , Arte
Sábado 25 Julio – Noche Eléctrica Azul
¡¡¡ DIA FUERA DEL TIEMPO ¡¡¡
Festival de Paz , el Arte y la Cultura .
Traigan tienda de campaña , saco de dormir , instrumentos musicales ,
Inciensos y cristales para las ceremonias y mucha , mucha alegría .
La alimentación en este encuentro Uayeb será vegetariana y crudi-vegana
con muchas frutas y verduras de huertas orgánicas y locales ,
la preparación a cargo de la familia del kin del dia .
El aporte económico es de 13 €uros al dia y de 52 €uros por todo el Uayeb
Para correr con los gastos de la comida y la organización .
VILLA TORTUGA se encuentra situada en el valle de El Morreón , Órgiva , Granada
Rodeados de Olivos centenarios , Higueras , Granados , Naranjos y Limoneros
en las faldas de Sierra Nevada , comarca de las Alpujarras.
PEPE , PELU , NEHUÉN
SEAN BIENVENID@S
MIL BENDICIONES EN SU NOOCAMINOO
IN LAKECH
NAMASTE
SAT NAM
650150657 /// 667 918 322
---
CANTERBURY, SOUTH ISLAND - NEW ZEALAND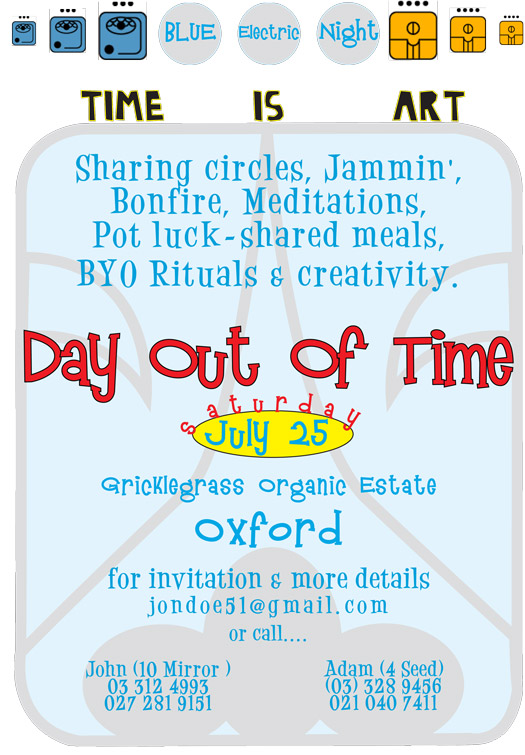 This special day is observed as the day to cancel debts, to pardon and forgive, and to celebrate life, community, love, universal forgiveness, atonement and purification, through art and culture.
Music, ritual, art, creation, celebration. Sharing circles, jammin' bonfire pot luck shared meals. All day.
PLEASE RSVP for "description,directions and suggestions"
In Lak'esh
John
Salvation is a collaborative venture.

---
TEOTIHUACAN - MEXICO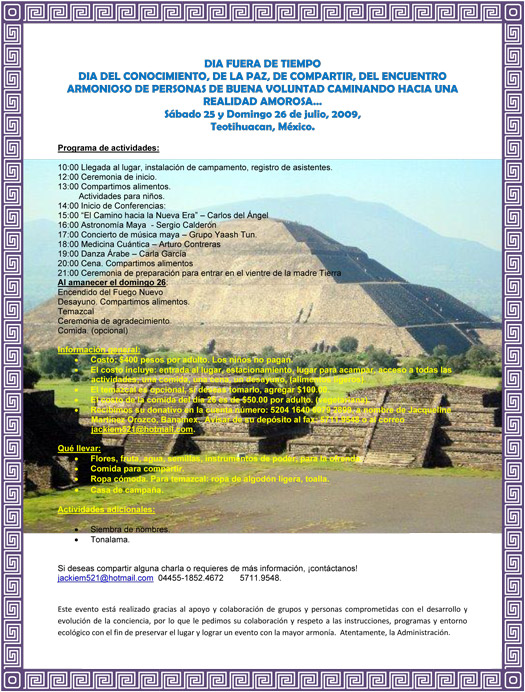 Queridos amigos:

Les envío la invitación a celebrar el Día Fuera de Tiempo... nuevamente en el lugar sagrado de Teotihuacan, para quienes estuvieron el año pasado les decimos que nos dará mucho gusto volver a estrechar su mano y saber cómo ha caminado su vida desde entonces... los que sembraron su nombre, ojalá nos avisen si han ido a ver cómo va su arbolito que sembraron allá... y los que por primera vez estarán viviendo esta experiencia, les auguramos un gran momento!!!

Todos son bienvenidos!!! Cualquier duda, información, comentario, estamos a la orden! También si quieren compartir una charla, alguna actividad que invite al despertar de conciencia, comuníquense con nosotros!!! En el archivo anexo vienen los teléfonos y correos para contactarnos!!

Esperando con alegría este día para compartir un gran abrazo, que une las buenas voluntades para caminar hacia el mismo destino, les deseamos que tengan un gran día!
Con afecto y respeto,
Xiuhtochtli Yohualpatlani...

Nimitzhualica ipan noyolo ipan noilhui...
(te llevo en mi mente y en mi corazón)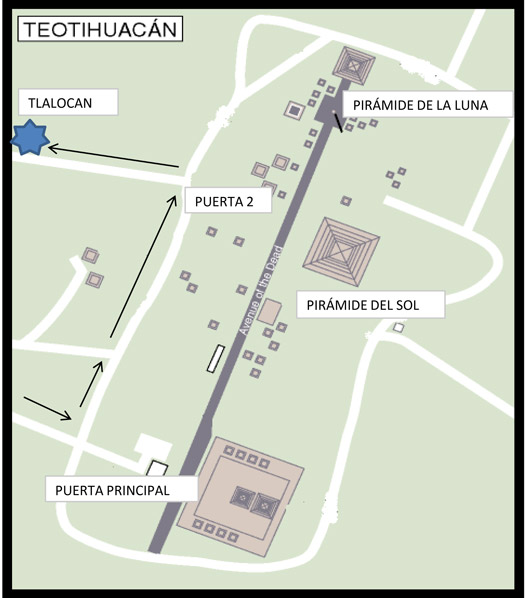 ---
MT. FUJI - JAPAN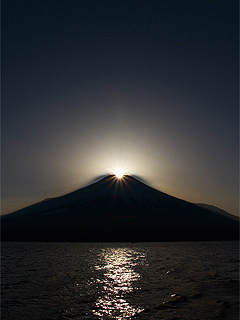 Climbing Mt. Fuji on the Day Out of Time
The six of us will climb Mt.Fuji for the first time.
We're going to celebrate this day at the top of Mr.Fuji, the closest spot to the Sun in Japan.
We're going to give thanks to the Sun, the Moon, the nature and to all living things on this planet.
Etsuko Endo, an official Cosmic Diary Teacher
For information
Please contact Hirohide Yanase
Cosmic Pan Japan
http://www.async.ne.jp/cosmic
cosmic-human12@syd.odn.ne.jp
---
TOKYO - JAPAN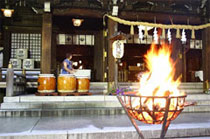 Let's Talk A Little Night
July 25 from 19:00
at A Little Something Cafe in Kami Shakujii in Tokyo
For information
Please contact Hirohide Yanase
Cosmic Pan Japan
http://www.async.ne.jp/cosmic
cosmic-human12@syd.odn.ne.jp
......................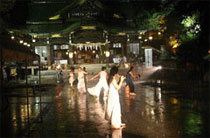 From Here and Now
~Songs That Corresponds the Universe~
Tomoko Shishikura sings classical melodies
July 25 from 18:00
Program:
Classical Japanese songs
English Traditional songs
Hendel
Caccini
at Matsumoto Music Geihinkan
in Setagaya, Tokyo
For information
Please contact Hirohide Yanase
Cosmic Pan Japan
http://www.async.ne.jp/cosmic
cosmic-human12@syd.odn.ne.jp
......................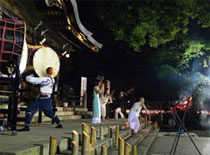 Shrine Ritual on Day Out of Time
at Omiya Hachiman Shrine
in Tokyo
July 25 from 18:30
Collaboration of Japanese Drums and Dance
For information
Please contact Hirohide Yanase
Cosmic Pan Japan
http://www.async.ne.jp/cosmic
cosmic-human12@syd.odn.ne.jp
......................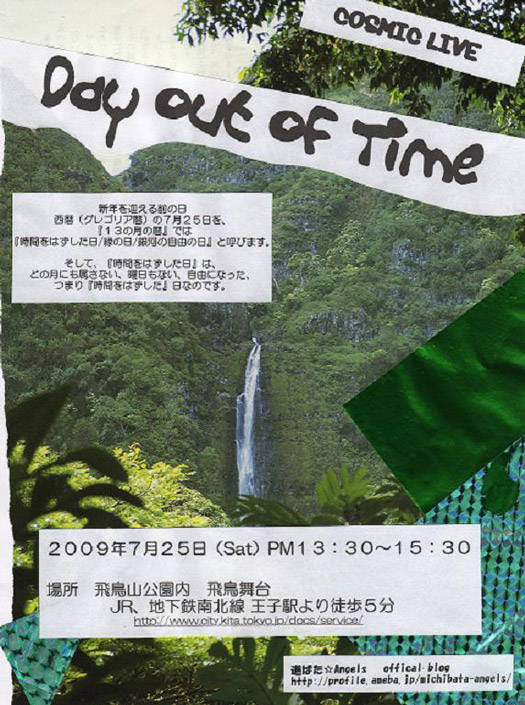 Cosmic Live on the Day Out of Time
Asukayama Park, Kitaku, Tokyo
July 25 13:30 ~ 15:30
Seven groups will perform and talk about the 13 Moon Calendar.
For information
Please contact Hirohide Yanase
Cosmic Pan Japan
http://www.async.ne.jp/cosmic
cosmic-human12@syd.odn.ne.jp