---
NEWARK, NJ - USA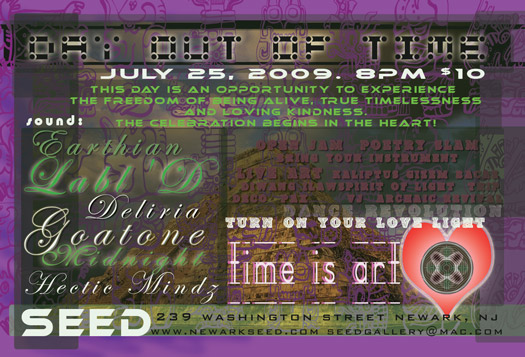 Spoken Life with Nasir
Open Jam-Bring Your Instrument
LIVE ART BY KALIPTUS AND GIZEM BACAZ
Performances by Diwang Ilaw-Spirit of Light & TRIP
Deco by Archaic Revival
DJ's:
*********Earthian****** (Animaltek,Omnitribe) http://www.djearthian.com/
************Goatone********
http://www.djmix.net/Goatone
**********MIDNIGHT********
*******Labl'D***********
*****DELIRIA******
Hectic Mindz
R>E>Y>
Let us know if your are interested in volunteering for this event.
$10/cover
---
MOSCOW - RUSSIA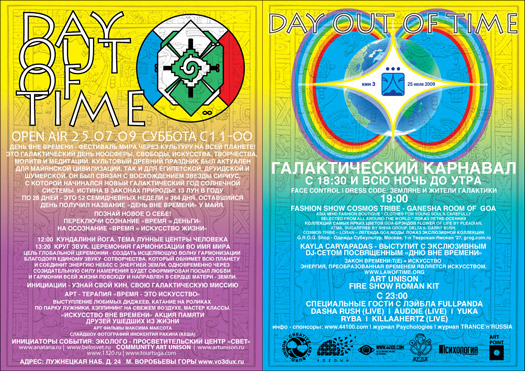 ---
GRAVATAL, SC - BRASIL
AMOR Y ALEGRIA !! dede la bio-region del Caminante, Termas de Gravatal, estado de Santa Catarina,Brasil
Estaremos celebrando el dia fuera del Tiempo, reconocido como dia municipal de la Paz a traves de la Cultura,
habra diversas representaciones de arte, esculturas, alimentacion bio-energetica, fuego ceremonial, circulo de didjeridoo, conciertos de musica, con grupos como Jamaica Groove.
A patir de las 13:20, esperamos a tod@s,
mandamos abrazos y besos noosfericos a todos los seres de la Red de Arte Planetaria
!Que la Paz Prevalezca en la Tierra!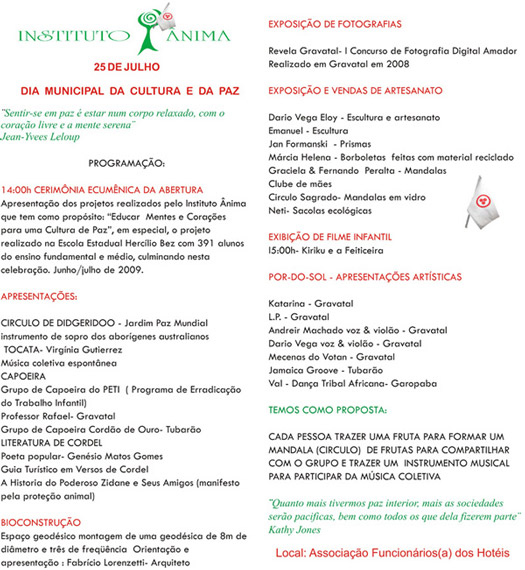 ---
ANTIOCH, ILLINOIS - USA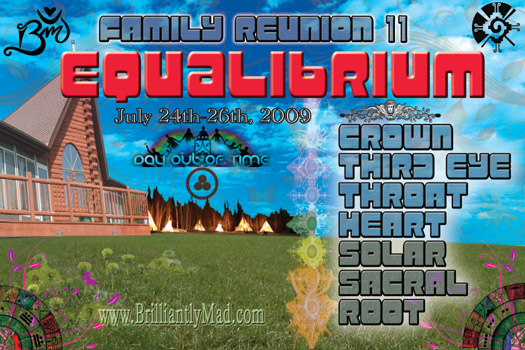 The weekend of July 24th - 26th, 2009
Family Reunion 11 reTreat into Equalibrium
Want to get High? Naturally high? Break away from the matrix of your past illusions and discover the new you. Receive new consciousness for greater clarity, wisdom, and source energy. We come together from all different spectrums of reality to bridge the rainbow of consciousness.
This is the eleventh consecutive year BrilliantlyMad has hosted the Family Reunion gathering. On our journey this year we will light our internal flame together and progress through the seven Chakras. We will first liberate ourselves through the cosmos into transcendence then manifest our visions back down to ground our intentions.
Your journey at Family Reunion 11 is personal yet amongst friends. As we lift others they in turn lift us, ascending together. Retreating from the outside to go clearly within, you are invited inward to rediscover your core being. Our intention by the end of this gathering is to elevate consciousness, feel more uplifted, radiate more joy and vitality, and have a stronger connection with your precious body temple and God source.
Everyone participating will design a personal contract for their journey while supporting each other as we transform together. Each person will be asked to share some of their personal magic at the event--whether it be decorating or building structures, leading a workshop, preparing a meal, reciting music, organizing and coordinating people, design, volunteer or anything else your heart desires.
This event is aligned with the Mayan New Year! Friday is the end of the 2009 calendar year and Sunday begins the New Year 2010. Saturday is considered "A Day Out of Time;" it is a day that is off of the calendar. So come celebrate this magical weekend with us and defy time, entering the interim where even the galactic calendar takes a day off to rediscover itself before the New Year begins.
PAN - Planet Art Network
Peace Through Culture - Time is Art
Spirituality, Art and Science surrounded by the Unity of Everything
Galactic Freedom DAY OUT OF TIME
A day to share with the world our dreams, forgive others and forgive oneself of all our debts, to rise above and step out of routine of "Time is money" to Time is Art.
Let's come together, free creative souls, to be as one, be thankful, smile and sing.
The galactic energies of this new year
bring us the cycle to clarify what we want to grow in the gardens of our lives, plant seeds with conscious intention, and nurture their unfoldment with compassion and wisdom!
The Galactic Butterfly is an ancient Mayan symbol said to represent all of the consciousness that has ever existed in this galaxy. It is a symbol of unity, which connects people regardless of distance, events, or time. We will be asking everyone who will not be able to attend Family Reunion to also BE IN EQUALIBRIUM wherever they are over the weekend of July 24-26, 2009. This means to be in solidarity with our mission of healing and transformation while being in a conscious and sober state of awareness. You will also be able to follow along with us as we liberate and manifest through the Chakra channels all weekend long, connecting to your highest purpose and potential.
Family Reunion 11 is open for the first 111 amazing people to form this tribe on July 24-26, 2009. Once this number is met our community will be sealed.
The cost of the weekend is $33.00, which includes your meals and all of the workshops, but if you can support our mission with a larger donation please do so.
We ask that everyone attending stay the whole weekend and refrain from taking any unnatural or intoxicating substances including alcohol.
This private location is in Antioch, Illinois right on the border of Wisconsin. Directions will be sent to everyone who gets a confirmation in their email accounts.
Some essential things to bring:
Camping supplies, tent, mosquito repellent (lemongrass oil), blankets, pillow, warm & cool loose fitting clothes, yoga mat, chair, dancing shoes, flashlight to light your way, positive vibes & intentions, journals, artwork, healthy snacks to share, reusable food utensils & water container, water if you don't like well water, biodegradable soap, natural remedies for healing station, wrapped present for grab bag, donation to our special raffle, books to trade, poems & passages, drums & instruments, poi hoops & juggling toys, tiki torches, labyrinth branches & fire wood, sacred items for the alter, chakra alignment stones, personal contract with yourself, your most celestial outfit & shot glass for the New Year.
Leave No Trace: What you bring in please bring out.
If you will be joining us this weekend email rsvp to Equalibrium@BrilliantlyMad.com quickly as we are only opening the gates for the first 111 people who join our community by pre-registering.
We look forward to experiencing you all there =)
In Lak'ech (I am another yourself)
BrilliantlyMad Crew
---
FORT MYERS BEACH, FLORIDA - USA